Crusty Quinoa Coated Chicken Nuggets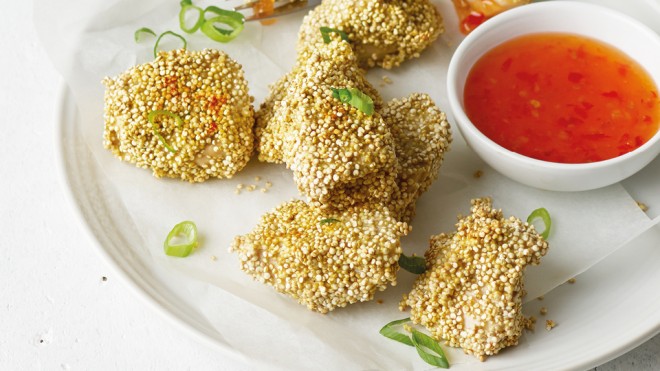 2 servings
15 Minutes to prepare
Ingredients
3tbsp plain flour
1 free range egg
150g uncooked quinoa
2 chicken breasts
1tbsp rapeseed oil
To Serve
Sweet chilli dipping sauce
Instructions
1. Spoon the flour onto a plate. Next beat a free-range egg in a shallow bowl, then place the quinoa on to a large plate.
2. Cut the chicken into bite sized cubes and toss in the plain flour, then in the beaten egg, then finally in the quinoa making sure they are evenly and well coated.
3. Heat a tablespoon of rapeseed oil in a non-stick frying pan and cook the chicken pieces for 3 -4 minutes until golden and cooked through. Serve warm scattered with sliced spring onions and with a sweet chilli dipping sauce.