Quinoa Patties with Cauliflower & Feta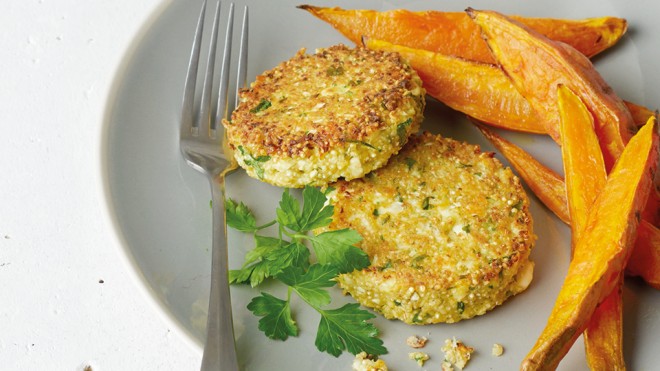 8 servings
35 Minutes to prepare
Ingredients
250g cauliflower florets
65g rolled oats
1 leek, roughly chopped
2 large free range eggs
1 lemon, zest only
1tbsp Dijon mustard
200g feta cheese, crumbled
150g pre-cooked quinoa
Instructions
1. Place the cauliflower florets into a food processor, blitz until they resemble coarse rice grains, then tip into a large bowl.
2. Add the rolled oats and leek to the food processor, then blitz until coarsely chopped. Tip into the bowl of cauliflower along with the eggs, lemon zest, mustard, feta cheese, parsley and the pre-cooked quinoa. Mix together seasoning well, then leave to rest in the fridge for 20 minutes.
3. Shape the mixture into 8 patties. Heat a tablespoon of rapeseed oil in a large non-stick frying pan and cook the patties for 3 – 4 minutes on each side until golden.