Cauliflower Soup with Blue Cheese Croutons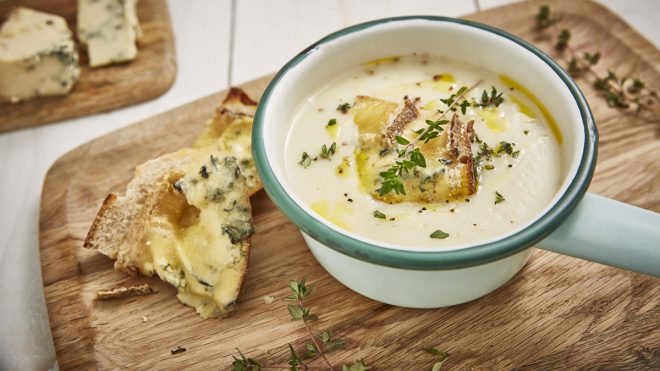 4 servings
30 minutes to prepare
Ingredients
250ml milk
400ml vegetable stock
1 large cauliflower, cut into florets
1 large potato, cubed
1 garlic clove, crushed
1 onion, chopped
4 slices sourdough
100g blue cheese
Handful of chopped chives
Instructions
You can prepare this easy cauliflower soup in advance, it's perfect for lunches – just make sure the crouton is made freshly to order.
Combine the milk, stock, cauliflower, potato, onion, and garlic in a large saucepan. Season with salt and pepper.
Bring to a boil over medium-high heat then reduce the heat and simmer, partially covered, until the vegetables are very tender, about 18 to 20 minutes.
Meanwhile toast the sourdough slices and top with the blue cheese. Cook under a hot grill until the cheese has melted.
Puree the soup, in batches, in a blender until smooth. Add chives and pulse to combine. Season to taste and serve with the blue cheese croutons.
Chefs tip
It doesn't have to be blue! Try your favourite cheese and bread combination to create your croutons, or keep it light and enjoy the soup without the croutons. Make the soup dairyfree by increasing the stock to 650ml and leaving out the milk.