Mummy Pizza Pies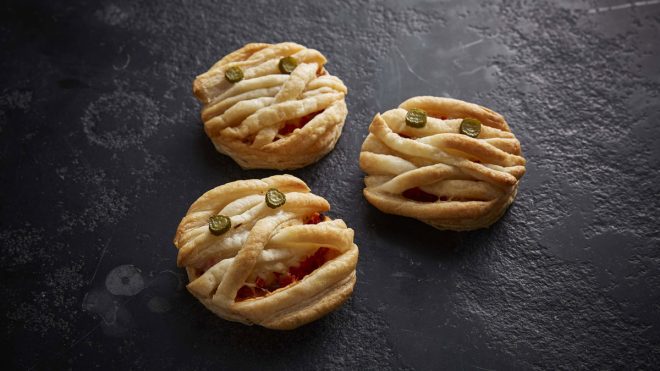 7 servings
15 minutes to cook, 20 minutes to prepare
Ingredients
375g Jus Rol Puff Pastry
25g pepperoni
1/4 red pepper, deseed & finely chopped
1 spring onion sliced
2tbsp tomato puree
75g Cheddar cheese, grated
3 cornichons or olives sliced to form eyes
1 egg, lightly beaten
Instructions
Fun little pizza pies perfect for a Halloween party!
Method
Preheat the oven to 200c/180c fan /390f/gas mark 6 and line a baking tray with lightly oiled greaseproof paper.
Using a large circle cutter cut out circles of pastry, 7 if possible, and place onto the baking tray.
Spread a thin layer of tomato puree onto each circle.
Place a small pile of all the fillings into the centre of the pastry circle but leave a small edge clear all the way round, this is to attach the lid. Brush the small clear edge with beaten egg.
Cut the leftover pastry into 1cm (or so) strips and then drape them across the top of the pies to create a lid with the desired mummy look.
Push the edges down into edge of the circle to seal it firmly, then brush with beaten egg.
Bake in the oven for around 15 minutes.
Take them out and allow cool before popping on two circles of cornichon or sliced olives to form the eyes.
Mmmmwwwwwahhhahhahhhaaaaaa!