Beer Pretzels with Cheese Dip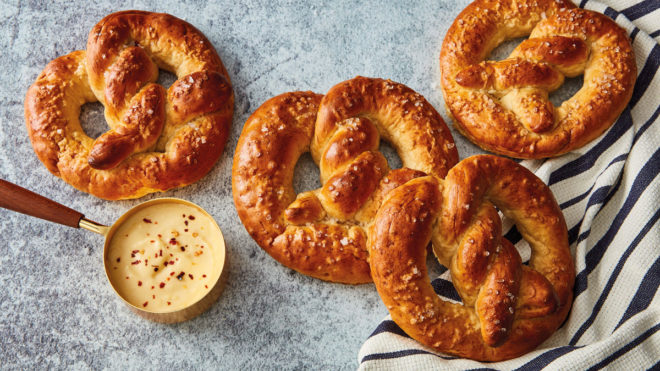 6 servings
40 minutes plus proving time to prepare
Ingredients
For the Pretzels
190ml milk, lukewarm
3tbsp brown sugar
12g dried yeast
750g strong white bread flour
3tsp salt
70g butter
200ml beer
1 egg, beaten (to glaze)
Extra salt, to finish
For the sauce
1.5tbsp plain flour
1.5tbsp unsalted butter
240ml milk
120g Cheddar cheese
35g cream cheese
1/4tsp paprika
1/4tsp cayenne pepper
1/2tsp mustard powder
1/2tsp dried chilli flakes
Instructions
Method
Pour the warm milk into a bowl. Stir in the yeast and 1 tbsp of the sugar. Leave to foam for 15 minutes.
Using a stand mixer fitted with a dough hook, mix together the flour, salt, butter, and remaining sugar. Add the milk mixture and beer. Mix for 3 minutes on a low setting, followed by 15 minutes on medium.
Shape the dough into a ball and leave to rise in a bowl covered in lightly oiled clingfilm for 45 minutes.
Divide the dough into 6 equal portions. Loosely cover with clingfilm and leave to rest for 15 minutes.
Roll each piece of dough into sausage approximately 100cm long. Pull the dough into a U shape and cross the two ends over each other twice to form a twist. Bring the ends down and press into the rounded part of the pretzel to create the classic shape. Leave to rest, uncovered, for 30 minutes at room temperature.
Preheat the oven to 245C/225C (fan)/ gas mark 9. Brush the pretzels with beaten egg and sprinkle with a little salt. Bake in the oven for 8 minutes, or until the pretzels are golden brown.
For the cheese dip, melt the butter in a saucepan and whisk in the flour. Add the milk, cheeses and spices, stirring until the cheddar has melted. Heat the sauce until it has reduced by one third.
Transfer the sauce to a dish and sprinkle with chilli flakes. Serve with the warm pretzels.
Chefs tip: If you want to get ahead, you can miss out step 3 by leaving the dough to prove in the fridge overnight.
If you decide to make one of our recipes, why not share it with us on social media for the chance to win? You could win a £10 Booths voucher and the photo of your creation will feature in our next magazine.
Please see below for individual channel entry requirements:
Facebook: Post a photo to our Facebook page and use #BoothsRecipes.
Twitter: Tweet us your image @boothscountry and use #BoothsRecipes.
Instagram: Tag us in your image @boothscountry and use #BoothsRecipes.
Terms and conditions apply, tap here to view.