Beetroot Wellington (Vegetarian)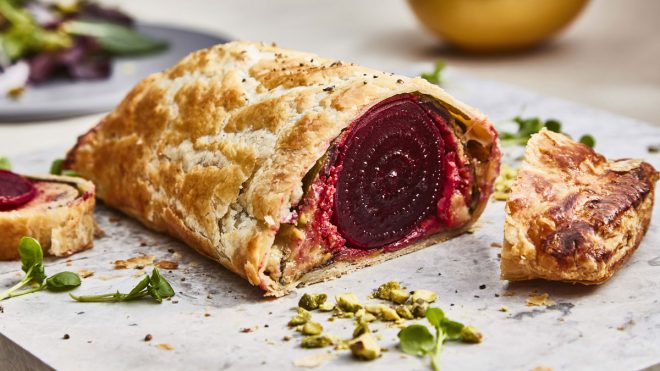 6 servings
2 hours to prepare
Ingredients
2 large purple beetroot
2 large golden beetroot
1 sheet puff pastry
1 handful spinach
2 garlic cloves
1 sprig thyme
1 egg and a splash of milk for egg wash
For the Stuffing
130g sourdough bread
2 eggs
50ml vegetable stock
25g pistachios
55g Lancashire cheese, broken into pieces
75g figs, chopped
Pinch salt
Cooking liquor for purple beetroot
1ltr water
150ml white wine vinegar
125g honey
1tsp chinese 5 spice
50ml olive oil
1 small shallot, sliced
1tsp salt
1 large sprig thyme
1 bay leaf
1 clove garlic, crushed
Instructions
A gorgeous way to enjoy seasonal beetroot and a real showstopper main event for your vegetarian festive feast.
Method
Stages 1, 2 and 3 can be done in advance to save time. Cover and store in your fridge until required.
For the stuffing, create breadcrumbs by placing the sourdough bread in a food processor. Add the pistachios and pulse to break them up. Add the eggs and salt, blend to bring together, add the veg stock gradually to ensure the mix doesn't get too wet. Remove from the bowl and fold in the cheese and figs taking care to leave chunks of cheese.
To create the cooking liquor, on a medium heat sweat the sliced shallot in the olive oil in a large saucepan, don't let it colour. Add the five spice, garlic, thyme and bay leaf and continue to sweat for 1 minute. Add the honey, white wine vinegar and the water and bring to the boil. Add the purple beetroot and cook for 30 minutes or until the beetroot is almost cooked. Allow the liquor to cool with the beetroot in it. For best flavour allow to marinade overnight in the fridge.
To prepare the golden beetroot, pre-heat the oven to 180 degrees centigrade. Wash the golden beetroot and place on a foil lined baking tray with two crushed garlic cloves and a sprig of thyme. Season with salt. Cover with foil to make an envelope. Bake for 30 – 40 minutes or until the beetroot is softening and almost cooked, then peel it.
To build and cook the Wellington, preheat the oven to 180 degrees centigrade. Lay the sheet of puff pastry out. Spread the stuffing out evenly on the sheet leaving a 2cm border around the edges. Scatter the spinach evenly over the stuffing. Place the beetroot in a line along the sheet and fold the pastry over to cover. Press the pastry together to form a seal. Brush with egg wash. Bake for 45 minutes or until the pastry is cooked.