Slow Cooked Venison Stew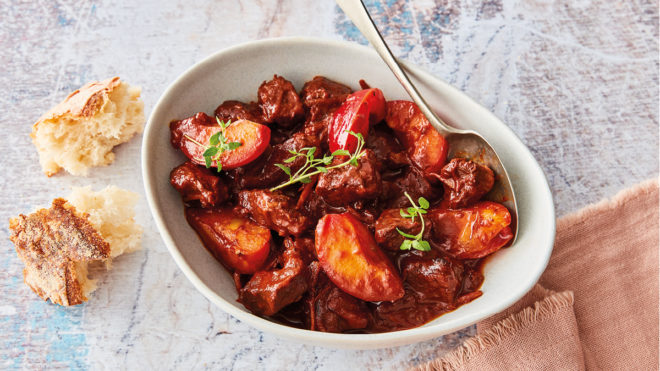 4 servings
3 hours to prepare
Ingredients
A drizzle of oil
750g venison, diced
1 red onion, sliced
2 cloves of garlic
5cm piece ginger peeled and cut into matchsticks
135g tomato puree
1 tbsp plain flour
1 tsp mustard powder
400ml Port
500ml beef stock
3 tbsp red current jelly
5 star anise
6 plums, stoned and quartered
Thyme leaves to garnsih
Instructions
METHOD
1 Pre-heat the oven to 150C(fan)/170C/325F/gas mark 3.
2 Heat a drizzle of oil in an oven proof casserole dish and brown the venison over a medium heat. Remove and set to one side.
3 Add a second drizzle of oil to the pan, add the sliced onion and saute for 5 minutes.
4 Add the garlic and ginger, cook for 1 minute.
5 Add the tomato puree, flour and mustard powder, cook for 1 minute.
6 Add the Port, bring to the boil for 1 minute.
7 Add the beef stock, red currant jelly and star anise. Return the browned venison to the pan. Bring to the boil, reduce to a simmer and place a lid on the casserole.
8 Cook in a pre0heated oven for 2.5 hours.
9 Remove the casserole from the oven, add the quartered plums and return to the oven for 30 minutes.
10 Garnish with thyme leaves and spoon into warm serving bowls.