Traditional Greek Moussaka Recipe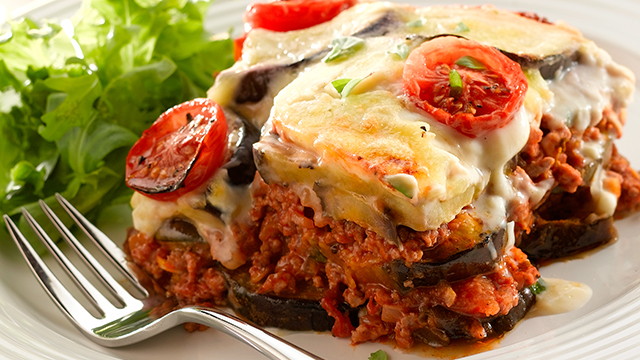 4 servings
40 mins to prepare
Ingredients
500g Booths minced lamb
3 aubergines sliced into 1cm rounds
6tbsp Booths Italian Extra Virgin olive oil
2 medium onions, finely chopped
2 garlic cloves crushed
Pinch of grated nutmeg
1tbsp Booths plain flour
1 x 400g tin chopped tomatoes
200ml water
1tbsp tomato puree
1/2tbsp fresh thyme, stalks removed
1/2tbsp fresh marjoram
1/2tbsp fresh parsley, chopped
100g mature cheddar cheese, grated
1 punnet of cherry tomatoes, sliced in half
Chilled ready-made four cheese sauce
Instructions
Pre-heat the oven to 180°c / gas mark 4.
Heat 2tbsp of olive oil in a large deep-sided frying pan, add the onions and garlic and cook for 3 minutes then add the lamb and cook until browned all over.
Now add the nutmeg, thyme, marjoram and flour, cook for 2 minutes then add the tomatoes and water. Continue cooking for 20-25 minutes, before adding the tomato puree and parsley then leave to one side.
Whilst the lamb is cooking, using 4tbsp of olive oil, fry the aubergines in small batches on a griddle pan until golden on both sides and leave to cool. Then line the bottom of the dish with aubergines, followed by minced lamb and repeat finishing with a layer of aubergines.
Pour the cheese sauce over the moussaka top with grated cheese and cherry tomatoes (open side upwards) and bake for 40-45 minutes until bubbly and golden.
Serve with salad or garlic bread.
Take a look at our other Greek Lamb Recipes: