Booths Country Butties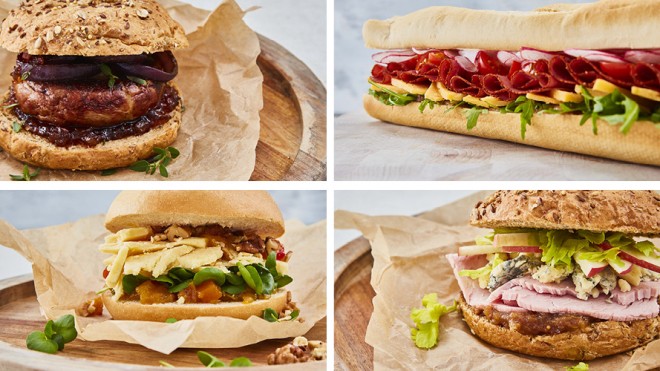 1 servings
5 minutes to prepare
Ingredients
For the Cheshire
1 demi french stick
2tsp Booths apple, sage & ginger chutney
1 handful rocket
25g Appleby's Cheshire cheese, sliced
3 slices Pastrami
2 cherry tomatoes, quartered
2 radishes, sliced
Celery sticks to garnish
For the Cumbrian
1 Booths Cumberland sausage wheel
1/4 red onion, sliced into rings
a knob of butter
salt and pepper
1 large seeded brown bread roll
2tsp Claire's Handmade Cumberland Sauce with Ruby Port
2 sprigs of fresh thyme
For the Lancashire
1 crusty cob
2tsp Booths Lancashire Cheese Relish
1 handful of watercress
30g Lancashire Blakc Bomber Cheese
1tsp chopped walnuts
The Yorkshire
1 granary roll
1tsp Raydale Preserves Rhubarb and Date Chutney
1 slice Yorkshire ham, thick cut
25g Mrs Bell's Yorkshire Blue Cheese
1/4 apple, sliced
Celery leaves to garnish
Instructions
'The Cheshire' – Pastrami Ploughman's Sandwich
Slice vertically through the French stick to open up.
Spread one teaspoon of chutney inside the bread. Top with rocket leaves.
Arrange the sliced cheese along the length of the French stick. Repeat with the pastrami slices.
Add a second dollop of chutney along the sandwich and garnish with the cherry tomato quarters, radish slices and celery sticks.
Chefs Tip
Feeding the family? Use a long French stick and fill the length with the suggested filling. Wrap in parchment paper and portion on picnics rather than making individual sandwiches.
"The Cumbrian" – Cumberland Sausage Sandwich
Pre-heat the oven to 180°C (fan) )/400°F/gas mark 6.
Line a baking tray with baking paper. Place the sausage wheel onto the baking tray. Cut a square of tin foil, place the red onion rings in the foil, add a knob of butter and season. Lightly scrunch the foil around the onion rings.
Bake for 25 minutes or until the sausage wheel is cooked through.
Once the sausage and onion rings are cooked, slice the bread roll in half. Spread one teaspoon of Cumberland sauce on the bottom of the roll. Top with the sausage, onion rings and a second dollop of Cumberland sauce. Garnish with thyme leaves and top with the bread roll lid.
Serve warm and enjoy!
Chefs Tip
These sandwiches are perfect for a hearty BBQ Brunch in the summer season!
" The Lancashire" – Lancashire Cheese Sandwich
Slice the cob in half. Spread the bottom with one teaspoon of relish. Top with the watercress reserving a sprig for garnish.
Top with the cheese slices and a spoon of relish. Garnish with chopped walnuts and a sprig of watercress. Serve and enjoy.
Chefs Tip
If you are gluten free, replace the bread with rounds of sliced apple and create an open sandwich.
"The Yorkshire" – Yorkshire Ham and Mrs Bell's Blue Sandwich
Slice the granary cob open.
Spread the bottom of the bread with the chutney.
Top with a slice of ham and crumble over the blue cheese.
Add the sliced apple and garnish with celery leaves.
Chefs Tip
These flavours work well with cooked chicken slices, perfect for using up leftovers from the Sunday roast.