Lightly Spiced Paneer Flatbreads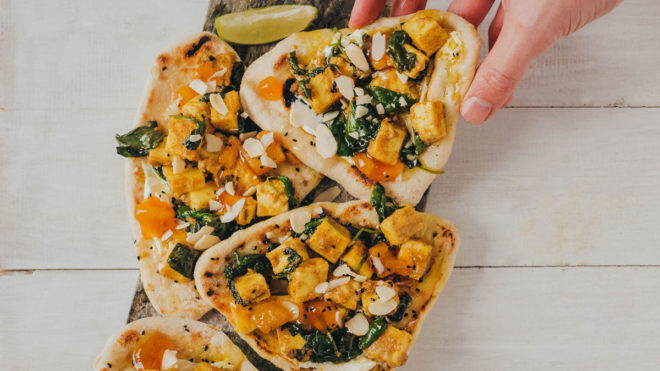 2 servings
20 minutes to prepare
Ingredients
1 ball Northern Dough Co Original Pizza Dough, defrosted (find it in the freezer aisle)
Plain flour for dusting
1tbsp nigella seeds
226g pack paneer cheese, cut into small cubes
1tbsp garam masala spice blend
3tbsp plain yoghurt
Pack babyleaf spinach, wilted (simply pour boiling water over and leave to drain)
2tbsp mango chutney
Flaked almonds
A few slices of lime
Instructions

The Northern Dough Co. have created a series of seasonal guest recipes for us, all focussed on bringing the family together in the kitchen and adding a pizza positivity to your winter. The Lancashire based family company make 100% natural pizza dough, which you'll find in the freezers in store.
Enter our competition to win yourself a personalised pizza party prize package courtesy of The Northern Dough Co. by tapping here.
THE SPICY ONE
"We've long known that a blend of spices does great things for our wellbeing (and is beautifully warming in the Winter months too). This recipe is also perfect for sharing, so get your friends and family into the kitchen, and share some food and some laughs for the very best mood booster (and it takes under 20 mins to make, giving you even more time for fun)!"
Firstly, create your paneer topping, by gently frying the garam masala in a dash of oil for 20 seconds to release the spices, then add the paneer to the pan, stirring until the spice has coated all sides. Cook on a medium heat for 8-10 mins until cooked through.
Stir in the yogurt and the spinach and mix well, then turn off the heat and cover.
Make your flatbread by cutting your doughball into four equal pieces, using a little flour if you need to, then flattening to create a rough teardrop shape. Sprinkle with the nigella seeds and lightly push them into the dough so they stick.
Heat a dry, flat bottomed frying pan until scorching hot, then drop the dough into it (you may need to do this in batches) and turn every 10-20 seconds until it has formed bubbles and charred slightly. Keep it warm by covering in tin foil if you're cooking in batches.
Move the flatbreads to a serving plate, then spoon over the paneer mixture, then add dots of mango chutney and a sprinkle of almonds. You can also add extra flavours at this point, like some fresh coriander, a sprinkle of chilli flakes or some pomegranate seeds for extra colour. Serve and enjoy!