Picnic Loaf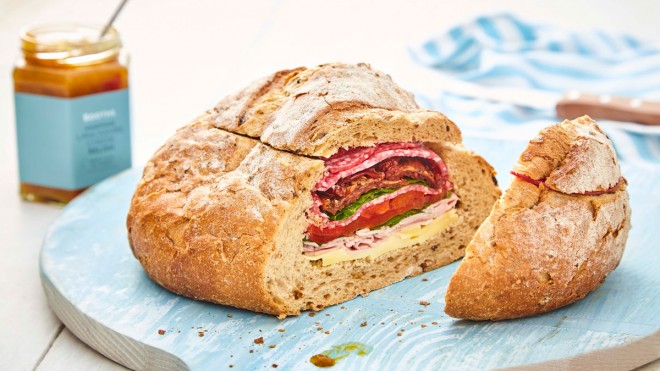 4 servings
15 minutes to prepare
Ingredients
1 artisan loaf
2 flame roasted peppers (we used jar ones)
10-12 sundried tomatoes
60g baby spinach, washed and dried
5 slices ham
10 slices pepperoni
75g Wensleydale, thinly sliced
Instructions
A fabulous way to create a large sharing sandwich for your picnic. You can choose any artisan loaf you like for this. Delicious served with Booths Lancashire Cheese relish.
Method:
Start by slicing the top of the loaf off and put to one side. Remove all of the inner bread, leaving about a 1cm of bread around the inside edge.
Start layering! Begin with the cheese at the bottom, followed by ham slices.  Spinach next, then roasted red peppers (ensure they're well drained to avoid a soggy sarnie!), then the pepperoni, followed by more spinach, sun dried tomatoes (again, well drained) and finally another layer of pepperoni.
Finish by placing the lid back on and wrapping with cling film. Cut off nice wedges or chunks to serve at your picnic.
Chef's Tip:
This picnic loaf can be made the night before or first thing in the morning and served a couple hours later, giving the chance for all the juices and flavours to marinade together. Why not experiment with your own filling combinations or artisan breads and send them to us @Boothscountry on instagram, facebook or twitter?
Bonus Recipe:
Cheesy Root Vegetable crisps
Ingredients:
2 whole sweet potatoes
2 whole parsnips
2 beetroot medium size
75g of grated parmesan
Method:
Preheat oven to 150°c / 300°f / gas mark 2.
Scrub the vegetables clean and using a mandolin or a thick slicer on a grater, slice the veg and place onto lightly greased baking trays in a single layer (this is important to allow them to crisp).
Season with a little salt and pepper.
Place in the oven for about 20-30mins and remove when dry, crisp and cooked.
Sprinkle over the Parmesan cheese and cook for a further 5 mins remove and serve hot or cold.
Eat the same day.