Goats' Cheese, Potato and Thyme Tart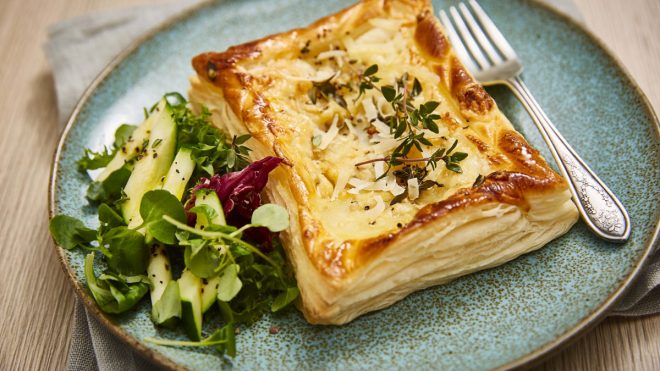 4 servings
20 minutes to prepare
Ingredients
1 sheet puff pastry
6 salad potatoes, cooked
150g grated hard goats cheese
Fresh thyme leaves
Salt & cracked black pepper
Vegetarian Italian style hard cheese, to serve
Instructions
An easy to make, delicious cheese tart that's easily adaptable to your favourite flavour combinations and perfect for using up any leftover boiled potatoes.
Preheat the oven to 200°c / 400°f / gas mark 6.
Cut the sheet of pastry into 4 equal portions and lightly prick each with a fork. Using a knife, gently score a 1.5cm border around the edge of each.
Top each tart with some thinly sliced potato, then season with salt and pepper. Sprinkled on the grated goats' cheese and a few fresh thyme leaves.
Bake in the oven for 15 minutes, or until the pastry base is cooked. Finish with a light grating of vegetarian Italian style hard cheese and serve with a fresh green salad.
Chef's Tip
Caramelised onion chutney is the ideal partner to enjoy this tart with.