Soy and Lime Tuna With Asian Coleslaw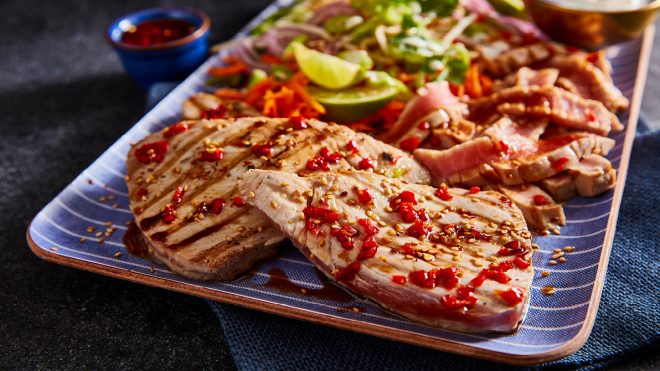 4 servings
50 minutes to prepare
Ingredients
Main Ingredients
4 tuna steaks
3tbsp soy sauce
2tbsp clear honey
1 lime, juice and zest
1tbsp olive oil
1 garlic clove, crushed
½ red chilli, finely chopped (optional)
Small piece of fresh ginger, grated
For the Coleslaw
2 baby gem lettuce, shredded (for the coleslaw)
1 carrot grated (for the coleslaw)
50g beansprouts (for the coleslaw)
½ red onion, finely sliced (for the coleslaw)
3 spring onions, finely sliced (for the coleslaw)
1 lime, juice and zest (for the coleslaw)
1tbsp coriander, chopped (for the coleslaw)
3tbsp mayonnaiseToasted sesame seeds to garnish (for the coleslaw)
Instructions
In a medium sized bowl mix together the soy sauce, clear honey, lime juice and zest, garlic, ginger, chilli (if using) and olive oil.
Add the tuna to the marinade spooning the marinade over the tuna. Leave to marinade for about 20 minutes.
To make the coleslaw add the mayonnaise, coriander, lime juice and zest to a large mixing bowl. Add the prepared vegetables and mix well.
Take the tuna out of the marinade and dry off with a little kitchen roll. Rub some olive oil over and cook on the BBQ, griddle* or grill for 2-3 minutes on both sides depending on the thickness of your tuna.
Serve with the Asian coleslaw, some fresh crusty bread and a scattering of toasted sesame seeds.