Surf & Turf Kebabs with Smoked Mayo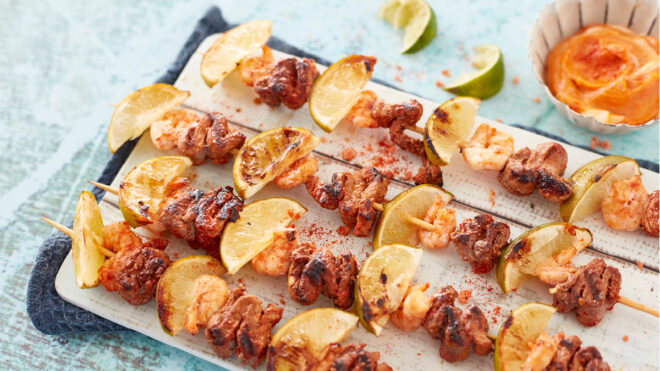 4 servings
10 mins to prepare
Ingredients
For the Kebabs
300g steak, sliced into 1cm strips
150g raw prawns
2 tsp smoked paprika
1 tsp smoked garlic granules
1 tsp sea salt
1/2 tsp chilli flakes
2 limes
For the smoked mayo
50g mayonnaise
1 tsp smoked paprika
1/2 lime, juice only
Instructions
METHOD
For the kebabs, place the steak strips and prawns into a bowl. Add the smoked paprika, smoked garlic granules, salt and chilli flakes. Mix well to coat.
Cut each lime into 8 wedges. Thread the meat and limes onto 4 skewers alternating between steak, prawns and a wedge of lime.
For the smoked mayo, mix all of the ingredients and spoon into a serving dish.
To cook, griddle the skewers on a hot BBQ for 5 minutes turning half way through cooking. Ensure the prawns are fully cooked through before serving. Serve with a dollop of smoked mayo.
CHEF'S TIP
Swap the prawns for squid for a change. This spice rub works well with pork and chicken. To cook in the oven, pre-heat the oven to 180°C (fan) / 200°C / 400°F / gas mark 6 and cook for 10 minutes or until the prawns are fully cooked through.