Mango and Lime Cod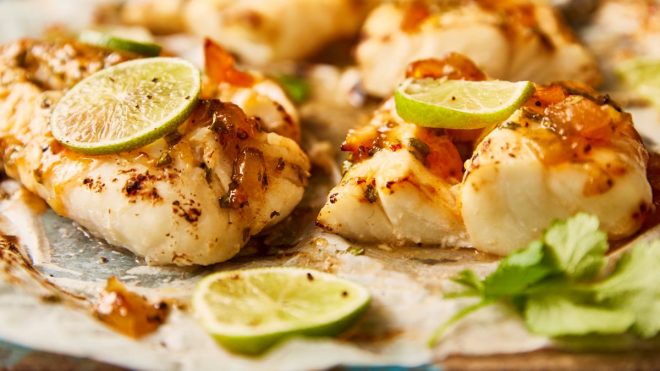 4 servings
1 hour 20 minutes to prepare
Ingredients
For the marinade  
3 tbsp. Mango chutney
2 Limes, zest and juice
5g Coriander, chopper
1/2 tsp. Salt
1/4 tsp. Pepper
600g Cod loin
To serve  
Lime slices
Coriander
Instructions
This delicious Mango and Lime Cod is the perfect summer dish – Healthy, colourful and perfect for the BBQ!
Method
To make the marinade mix the mango chutney, lime zest and juice, coriander, salt and pepper in a bowl.
Place the cod loin into a large freezer bag. Add the marinade and refrigerate for 1 hour.
To cook, pre-heat the grill to high. Place the marinated cod onto a baking tray and grill for 15 minutes or until cooked through. If you're barbecuing, put your cod and marinade into a foil parcel. Be sure to leave enough space in the parcel for steam, then pop onto the hot bbq until cooked through.
To serve, garnish with extra lime slices and coriander.
 Chefs Tip
This marinade works well with a variety of fish, seafood and chicken. Perfect for the BBQ season.  Marinating the cod helps to increase the flavours in this dish, if your short on time you can miss this step and it will still be delicious.