Lime and Jalapeño Margarita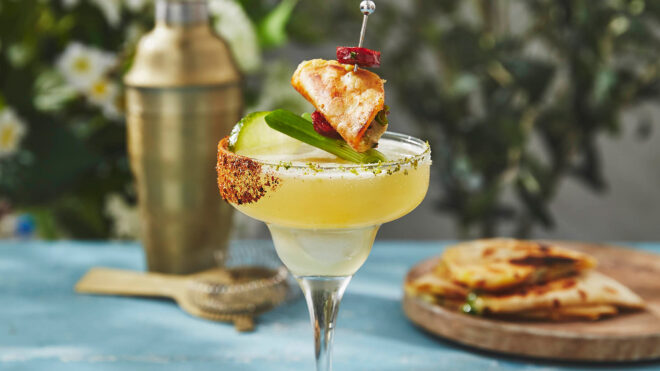 2 servings
20 minutes to prepare
Ingredients
For The Quesadillas
1 floured tortilla
15g chorizo, sliced
15g cheddar, grated
1 spring onion, sliced
1 pinch chilli flakes
For The Cocktail
20g Maldon salt mixed with a pinch of chilli powder and the zest of 2 limes
100g ice cubes
120ml tequila
60ml Triple Sec
2 limes, juice only
1tbsp agave syrup or honey
1 jalapeño pepper, diced
For The Garnish
1 lime, cut into wedges
2 jalapeño, cut in half lengthways
Instructions
Method:
1. For the quesadillas, cut small rounds from the tortilla with a pastry cutter.
2. Mix together the diced chorizo, grated cheese, sliced spring onion and chilli flakes.
3. Place the cheese mix onto 1 half of each small tortilla round and fold over to form cres-cent shapes.
4. Dry fry in a non-stick frying pan, turning occasionally until golden the cheese is melted. Keep these warm whilst you prepare the cocktail.
5. Rub the rim of two glasses with a lime wedge and dip into the salt mix.
6. Fill a cocktail shaker with ice and add the tequila,Triple Sec, lime juice, agave syrup, and the diced jalapeño.
7. Shake until the outside is cold and frosted.
8. Fill your glasses with ice and strain the cocktail into the prepared glasses.
9. Garnish with lime wedges, chilli and your quesadilla.
Chefs tip
Try changing up your mini garnishes with slices of scotch egg, cured meat, cubes of cheese, olives or grilled BBQ meat.