The Boho Baker's Lancashire Cheese Biscuits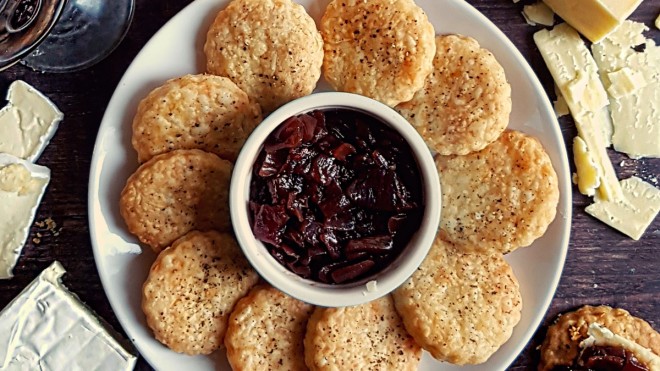 16 servings
1 hour 20 minutes to prepare
Ingredients
For the Shortbread
250g Booths Lancashire Cheese
130g plain flour
65g butter (softened
For the Marmalade
4 red onions
1 small red chilli
1tsp olive oil
100g brown sugar
75ml balsamic vinegar
75ml red wine vinegar
Pimch black pepper
Instructions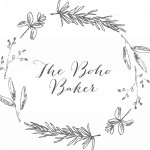 The Boho Baker describes herself as "Baker. Writer. Forager. Wanderer. Organic ingredient and edible floral Enthusiast. Member of the Guild of Food Writers." Very local to our HQ in Preston, she's kindly agreed to do a series of recipes for us, celebrating the best of our local produce. Follow her on instagram @thebohobaker.
These tangy little biscuits are made with Booths Lancashire cheese, which pairs beautifully with the sticky, sweet onion marmalade. Perfect for an Autumnal evening treat alongside a cheeseboard and glass of pinot noir.
Yield: 40 small shortbread rounds and 2 medium jars of marmalade
Method:
Preheat your oven to 180°c / 350°f Gas Mark 4. Grate the cheese and cream it into the softened butter with the back of a spoon. Add the flour and mix until well combined. You should have what resembles a slightly sticky shortbread dough. Tip it onto some cling film, wrap it up and pop it in the fridge to cool for an hour.
Whilst the shortbread is chilling, thinly slice the onions and red chilli before adding to a pan with the olive oil and cooking gently for about 20 minutes. Stir regularly to avoid burning.
Once the onions are glossy and sticky, add the brown sugar, balsamic and red wine vinegars. Leave to simmer on a low to medium heat until most of the liquid has been absorbed and the chutney looks thick and dark. Ladle into hot, sterilised jars.
Take the shortbread from the fridge and roll out the dough to the thickness of a £1 coin. Cut into whatever shape takes your fancy, and place on a baking sheet coated with greaseproof paper. Grate a little black pepper over the top and then bake in the oven for 12-15 minutes until golden. Serve either warm or cold with a bowl of chutney and selection of cheeses.
Hints/Tips/Troubleshooting:
To sterilise your jars, take two jars (new or used, it does not matter) and clean in hot, soapy water. Leave to dry on a baking sheet in the oven on its lowest setting until dry. For best results, fill the jars whilst still hot and pop a circle of wax paper on top before sealing with the lid. Please be cautious when removing from the oven as the jars and lids will get very hot.
The chutney will taste even better after being left for a month or two to mature, so why not put away your spare jar as a Christmas gift? Just make sure that the lid is on the jar properly and keep in a cool, dark place until December.