The Best Bread & Butter Pudding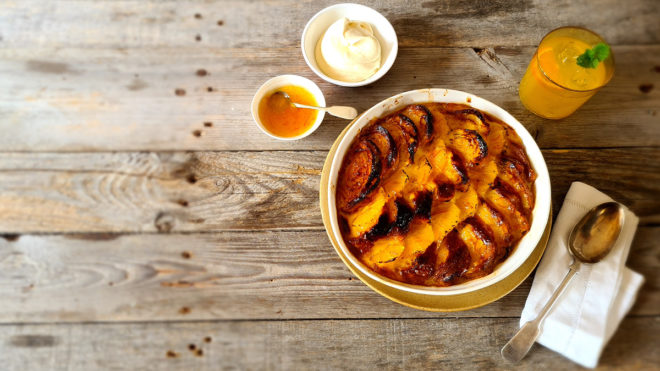 4 servings
30 minutes to prepare
Ingredients
4 eggs
75g caster sugar
3 stale croissants or stale bread
2 oranges
200ml whipping cream
200ml milk
1 tbsp cocoa powder
1 tsp vanilla essence
2 tbsp marmalade
2 tbsp water
Instructions
METHOD
1 Preheat the oven to 150°C fan.
2 Crack the eggs into a large bowl, add the sugar and lightly whisk.
3 Slice the croissants or bread and place in a buttered baking tray.
4 Zest the oranges and add the zest to the eggs. Peel the oranges , slice thinly and place the slices of orange between the slice of croissant.
5 In a pan, add the whipping cream, milk, cocoa powder and vanilla essence and bring to the boil. Pour over the beaten eggs and sugar to form a custard.
6 Pour the mixture over the croissants and bake in the oven until just set but still soft enough (around 15 – 18 minutes).
7 Melt the marmalade with 2 tbsp of water in a saucepan to form a glaze. Brush the top of the pudding and serve warm.