Sticky Vietnamese Style Salmon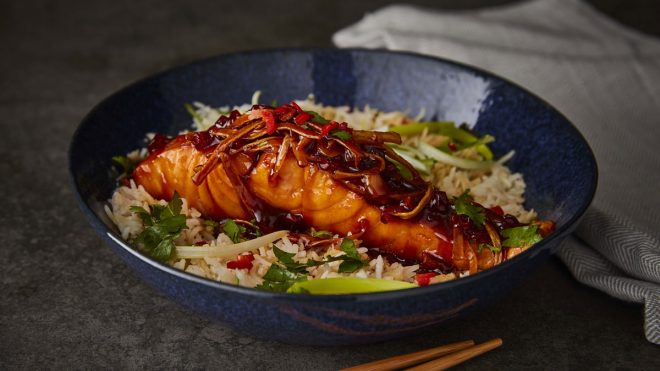 4 servings
8 minutes to cook, 20 minutes to prepare
Ingredients
4 skinless salmon fillets
150g caster sugar
1 thumb sized piece of ginger
1 red chilli
3 garlic cloves
3tbsp thai fish sauce
1 small bunch coriander
1 small bunch spring onion
500g pack Tilda fragrant jasmine rice
Instructions
A delicious simple salmon dinner dish that's packed full of flavour.
Method
Put the rice on to cook.
Cut the ginger into thin strips, then finely slice the red chilli and garlic.
Finely slice the spring onions and pop them into iced cold water so that they curl.
Place a large frying pan over a medium heat. Add in the sugar  and 4tbsps water, then cook for 5 minutes, swirling the pan now and again until you have a dark caramel.
Add the salmon fillets, garlic, ginger and chilli and coat completely in the caramel.
Add in 50ml of water and the fish sauce then bring to a steady boil.
Reduce the heat and cook for 6-8 minutes or until the salmon is cooked all the way through.
Once the fish is ready, serve on a bed of jasmine rice, garnished with coriander and spring onion.
Chefs tip
At step 6 instead of finishing the salmon on the hob, you can pop the salmon into the oven on 180°c for 5 minutes or so until the caramel becomes really sticky and yummy.