Our Colin's Classic Roast Beef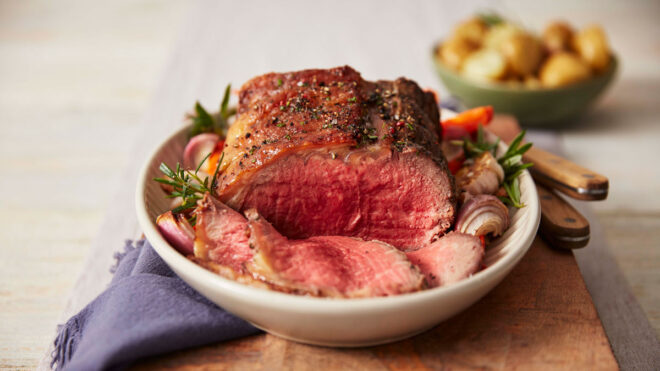 Ingredients
1 beef roasting joint
Olive oil
Salt and pepper
2 carrots, peeled and roughly chopped
1 onion, peeled and chopped into chunks
2 celery sticks, roughly chopped
2 garlic cloves, left whole
2 bay leaves or a sprig of fresh rosemary
Instructions
Method:
Remove the joint from the fridge 1 hour prior to cooking. Preheat the oven to 220°C/ 200°C fan/ 425°F/Gas Mark 7.
Rub the joint with olive oil and season well with salt and pepper.
Heat some olive oil in a frying pan and sear the joint all over and start to render down any fat.
In a roasting tin, make a trivet of the chopped vegetables to sit the joint on.
Place the joint on top of the vegetables and roast in the oven. The timing will vary based on the size of the joint:
General guide to beef joint cooking times – this is a guide only and for best results use a meat thermometer.
As a rule of thumb, after cooking your joint at 220°C / 200°C fan / 425°F/ gas mark 7 for 20 minutes, turn the oven down to 180°C  / 160°C fan / 350°F / gas mark 4 and roast for:
15 minutes per 450g/1lb for rare beef
20 minutes per 450g/1lb for medium beef
25 minutes per 450g/1lb for well-done beef
Remove from the oven, lightly cover with foil and leave to rest for 30-40 minutes, depending on the size of the joint.
Carve slices to your liking and enjoy them with roast potatoes, seasonal veg, Yorkshire puddings and gravy made from the meat and veg juices.