Chicken & Chorizo Paella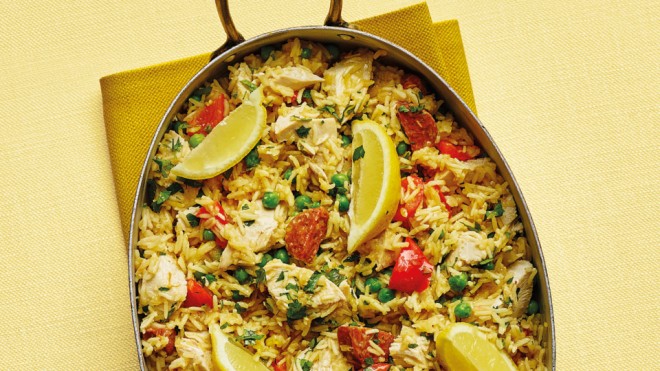 4 servings
Cook 40 mins, 15 mins to prepare
Ingredients
Pinch saffron
1ltr chicken stock
2tbsp olive oil
1 onion, finely chopped
2 cloves garlic, finely chopped or crushed
1 large red pepper, deseeded and chopped
1 green chilli, finely chopped
100g chorizo
300g paella or basmati rice
350g leftover chicken, shredded or chopped
100g frozen peas
2tbsp chopped fresh flat leaf parsley
1 lemon cut into wedges to serve
Instructions
1 Add the saffron to the hot stock and set aside.
2 Heat the oil in a large frying pan and cook the onion for 5 – 6 minutes until beginning to soften then stir in the garlic and cook for 1 minute.
3 Add the peppers and green chilli, cook for 1 minute then add the chorizo and cook until golden.
4 Add the rice and toss well until all the grains are coated in the oil from the pan. Stir in the saffron and chicken stock and simmer over a gentle heat for 25 minutes until the rice has absorbed all of the liquid.
5 Carefully stir in the chicken, peas and parsley, and then cook for 5 minutes until heated through.
6 Serve with a wedge of lemon to squeeze over.
LOVE YOUR LEFTOVERS
If you are going to store leftover roast to make this recipe, cool it as quickly as possible (ideally within 90 minutes) cover it and place into the fridge. Always use your leftovers within two days of storage. Ensure you cook this recipe until it's steaming hot throughout and importantly, never reheat leftovers more than once.