Spicy Pinto Bean Burgers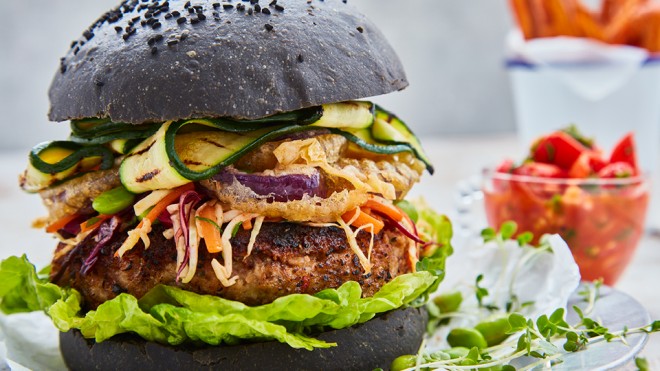 4 servings
25 minutes to cook, 45 minutes to prepare
Ingredients
For the burgers
2 tins pinto beans, drained and rinsed
6tbsp fresh white bread crumbs
½ red onion, sliced
1 small red chilli, deseeded and chopped
2 cloves garlic
½ lemon
½tsp paprika
½tsp cumin seeds
1tbsp chopped coriander
Vegetable oil
For serving
1 top of Booths coleslaw
Onion rings
Cherry tomatoes
Lime
Jalepeno salsa
Instructions
Suitable for vegans, our Spicy Pinto Bean Burgers are delicious served in a charcoal brioche bun.
1 Place the onion, chilli and garlic into a food processor and pulse until finely minced. Add all the remaining ingredients aside from the vegetable oil and pulse into a coarse paste. Tip into a mixing bowl and season with salt and pepper to taste.
2 Divide the mix into four balls and flatten each one into individual burger patties, place onto a plate lined with cling film and leave to firm up in the fridge for 30 minutes.
3 Heat a couple of tablespoons of vegetable oil in a
non-stick frying pan over a moderate heat. Fry the burgers for 10-12 minutes, using a spatula to turn occasionally until evenly browned. Alternatively, place on a baking tray with a little vegetable oil and cook in the oven at 180°C/350°F gas mark 4 for 20-25 minutes, turning over each burger half way through cooking.
4 Serve each burger in a toasted burger bun (here we've used our recipe for Charcoal Brioche Buns, available at booths.co.uk). Top with fresh 'slaw, grilled courgettes, battered onion rings, fresh cherry tomatoes, the lime and jalepeno salsa.
Chef's Tip
Other beans or pulses could be used in place of pinto beans – for example black beans, chickpeas or flageolet beans would all work well.
You can use any burger bun you like, but we recommend our Charcoal Brioche Bun recipe which can be found here.