Partridge with Cider and Savoy Cabbage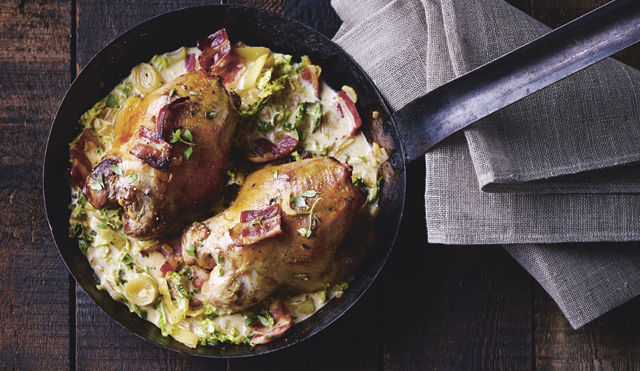 2 servings
Cook 30 minutes, 15 minutes to prepare
Ingredients
1 tbsp olive oil
4 rashers streaky bacon chopped into large pieces
2 prepared partridges
1 medium onion, finely chopped
1 leek, cut into rings
2 cloves garlic, finely chopped
300ml dry cider
2 tbsp chopped fresh thyme
2 large savoy cabbage leaves, finely shredded
2 tbsp double cream
salt and milled pepper
Instructions
1 Pre-heat the oven to 180ºC/fan 160ºC/gas mark 4. Heat the olive oil in a ovenproof sauté pan or roasting tin. Add the bacon and cook until starting to brown then add the partridge and brown all over. Remove the bacon and partridge from the pan and set aside.
2 Add the onion and leek to the pan and cook for just 5 minutes until beginning to soften then stir in the garlic and cook for just a minute. Add the cider and bring to a simmer then remove from the heat.
3 Return the bacon and partridge to the pan and sprinkle over the fresh thyme. Place in the oven to cook for 20 minutes.
4 When immediately out of the oven add the cabbage and cream and stir through seasoning with a little salt and milled black pepper