Charcoal Brioche Buns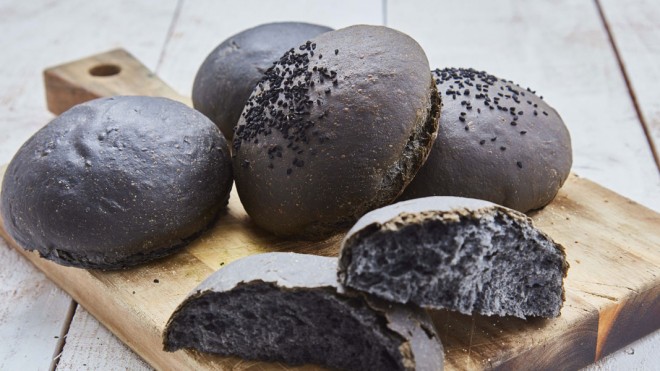 Ingredients
200ml warm water
50ml warm milk
2tsp dried yeast
2tbsp caster sugar
75g unsalted butter
2 large eggs
475g plain flour
1/2tsp salt
50g activated charcoal powder
2tbsp nigella seeds
Instructions
If you want to get a little bit funky with your burgers, why not serve them in these black brioche buns? Food grade charcoal powder is readily available from health food shops online – you will need an electric mixer for this recipe.
Method
Whisk the yeast, sugar, water and milk together in a bowl and allow to stand for 5 minutes.
In the electric mixer using a dough hook, mix the flour, charcoal powder and butter until it resembles bread crumbs/crumble mix
On a low speed, add the eggs and then slowly pour in the yeast mixture until combined.
Bring up to a moderate speed and continue to mix for a further 8-10 minutes. You may need to stop the mixer occasionally and use a spatula to scrape the sticky dough from the sides of the bowl.
Cover the bowl with clingfilm and leave at room temperature until doubled in size.
Turn out the dough onto a floured surface and knock back forming into a length of dough, cut into 12 even pieces and roll into balls. Space these evenly on a baking tray (s) lined with baking paper, loosely cover with oiled clingfilm and leave for a second prove, about an hour or so, until doubled in size.
Brush each bun with a little water and scatter with the nigella seeds before baking at 180C for 20-25 minutes. Allow to cool on a wire rack.