Cumbrian 'Millionaire's' Shortbread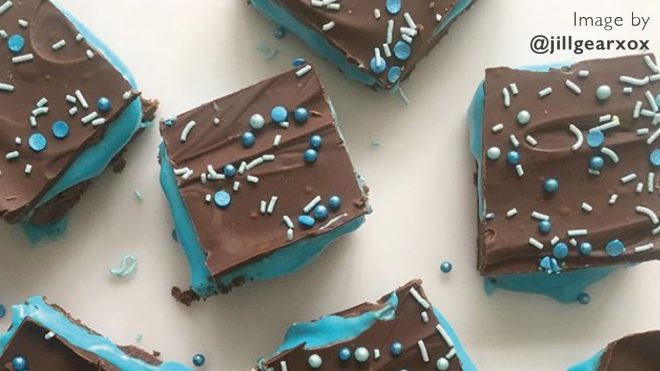 16 servings
20 minutes to cook, 90 minutes to chill, 25 minutes to prepare
Ingredients
300g plain flour
50g cocoa powder
100g soft brown sugar
250g butter, chilled & cubed
500g icing sugar
1tsp peppermint extract
2-3 drops blue food colouring (optional)
450g dark chocolate
1tbsp coconut oil
100g white chocolate, chopped
Instructions
In a departure from the classic caramel millionaire's shortbread, this is a really easy chocolate mint option, reminiscent of Kendal mint cake. It would make a gorgeous after dinner accompaniment to coffee.
Method
Pre-heat the oven to 180°C (fan)/400°F/gas mark 6.
Line a 20×30 tin with baking paper.
Sift the flour and cocoa powder into a mixing bowl. Add the sugar and mix to combine.
Rub the cubed butter into the dry mix using your fingertips until the mixture resembles breadcrumbs.
Tip the mix into the lined baking tin and press the mixture evenly into the tin using the back of a spoon.
Bake in a pre-heated oven for 20 minutes. Remove and set to one side to cool completely.
Once the base has cooled, place the icing sugar into a large mixing bowl. Add 4 tablespoons of boiling water, peppermint extract and blue food colouring. Mix well to form a smooth glossy mixture.
Pour the mix onto the cooled base and level using a palette knife. Place in the fridge to set for 1 hour.
To make the topping, place the dark chocolate and coconut oil in a glass bowl over a pan of simmering water to melt, stirring occasionally. Set to one side.
Place the white chocolate into a separate glass bowl and set over the pan of simmering water to melt.
Pour the melted dark chocolate over the chilled mint layer working quickly to level. Spoon teaspoons of melted white chocolate randomly onto the dark chocolate and swirl using a cocktail stick to make a marble pattern.
Return the slab to the fridge for 30 minutes to set.
To serve slice into bars.