Salmon with a Cranberry and Walnut Crust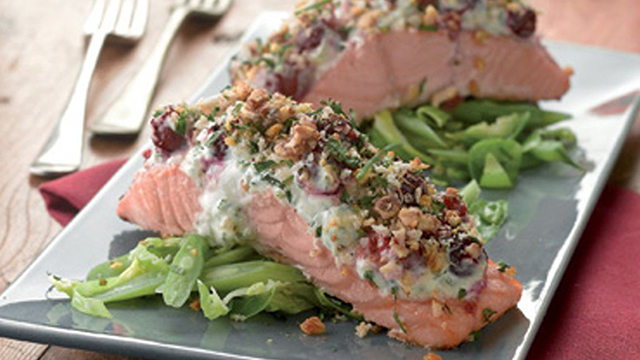 4 servings
30 minutes to prepare
Ingredients
4 x 7oz salmon fillets
100g cream cheese
25g coarse breadcrumbs
15g walnuts, finely chopped
15g cranberries
1 small garlic clove, chopped
Zest of ½ lemon
20g parmesan cheese, coarsely grated
1tbsp fresh parsley, chopped
Sprinkle of paprika
Sea salt
Milled pepper
Instructions
Pre-heat the oven to 200°c / gas mark 6.
Season the salmon with sea salt, milled pepper and place on a buttered oven dish.
Then mix the cream cheese, garlic, lemon zest and cranberries in a small bowl.
Divide the cream cheese mixture on top of each salmon fillet then pop in the fridge for 10 minutes.
Mix the breadcrumbs with the walnuts, parsley and parmesan cheese and sprinkle over the salmon. Finally, dust with a little paprika and bake for 12-15 minutes until the salmon is pink in colour and the top is golden.