Gin Cheesecake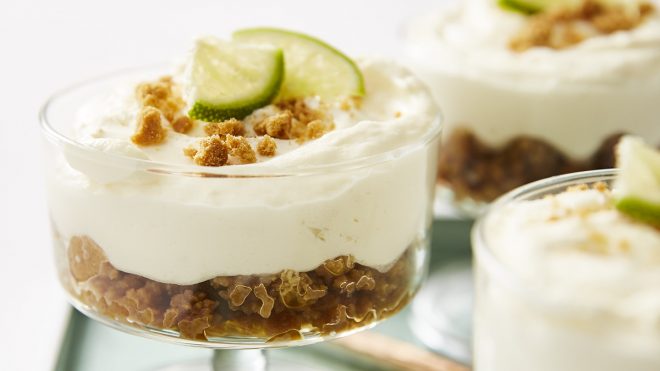 4 servings
40 minutes to prepare
Ingredients
100g Ginger biscuits, crushed
50g Butter, melted
200g Cream cheese
2 tbsp. Icing sugar
1 Lime, Zest and 1 tsp. juice
3 tbsp. Gin
200ml Whipping cream
To decorate  
Lime slices
Instructions
If you're a fan of gin, then you're definitely  going to be a fan of our creamy, no bake gin cheesecake which takes just 10 minutes to whisk together and 30 minutes to chill.
Method
Reserve 2 tablespoons of crushed ginger biscuits to decorate. Mix the remaining crushed biscuits and melted butter in a small bowl. Divide between 4 serving glasses and chill whilst you prepare the cheesecake topping.
Place the cream cheese, icing sugar, lime zest and juice and gin into a bowl. Mix until smooth.
Pour the cream into a bowl and whisk to soft peaks.
Fold the whipped cream into the cheesecake mixture. Divide between the serving glasses and chill for 30 minutes.
To serve, scatter over the reserved crushed ginger biscuits and decorate with lime slices.
Chef's Tip
This recipe works really well with zesty lemon. Swap the lime for lemon and add 3 tablespoons of lemon curd in place of the gin to make this a child-friendly summer dessert.