Salmon Fillet with Honey & Wholegrain Mustard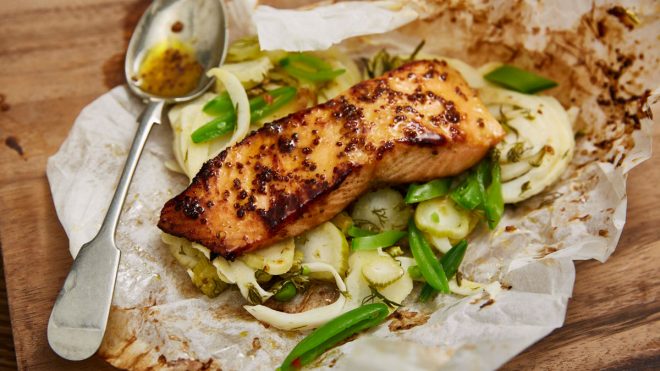 2 servings
20 minutes to prepare
Ingredients
1tbsp clear runny honey
1tbsp wholegrain mustard
Splash lemon juice
1 fennel bulb
Instructions
A super easy to prepare salmon fillet recipe, ready in 20 minutes! Serve with your favourite veggies.
Preheat the oven to 180°c / 350°f / gas mark 4.
Mix 1tbsp honey with 1tbsp wholegrain mustard and a splash of lemon juice.
Thinly slice a fennel bulb and arrange some slices evenly onto a large square of foil or greaseproof paper, big enough to make a loose parcel with the salmon inside. Place the salmon fillet on top, and spoon over some of the mustard and honey mix.
Wrap the foil loosely around the fish leaving room for steam, and bake for 10-15 minutes or until cooked.