Fresh Salmon Burgers with Lemon, Caper and Dill Mayonnaise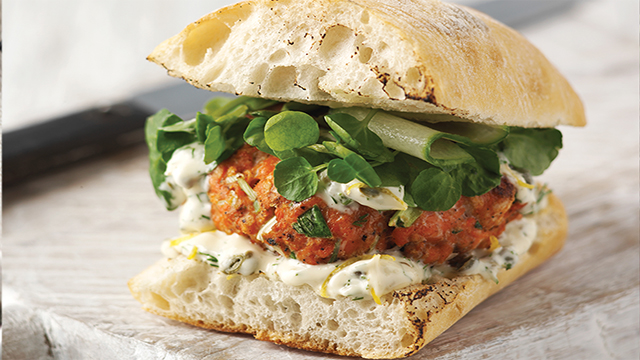 Ingredients
600g fresh salmon, skinned and cut into chunks
100g white breadcrumbs
1 egg
3 spring onions, roughly chopped
1tbsp chopped parsley
Salt and milled pepper
½ cucumber, peeled into ribbons
1 packet watercress
4tbsp mayonnaise
1tbsp capers, chopped
1tsp dill, chopped
Juice of ½ lemon
4 bread buns, lightly toasted or barbecued
Instructions
Place the salmon, breadcrumbs, spring onions and egg into a food processor. Season with salt and milled pepper add the parsley and wiz until combined but not to a puree. This will take 2-3 seconds.
Divide the mixture into 4 and on a lightly floured surface shape into a burger. Pop onto a plate, cover and leave in the fridge for 30 minutes to set.
Meanwhile to make the mayonnaise, simply mix all the ingredients together.
To cook Pre-heat your oven to 180*c / gas 4.
Fry the salmon burgers for 2 minutes on each side in a little sunflower oil and pop into the oven to cook through for about 6 minutes. If you wish to barbecue the burgers they will take 4-5 minutes on each side. Serve the salmon burgers on a toasted bun of your choice, with new season watercress, ribbons of English cucumber and the lemon and caper mayonnaise.