Smoked Salmon Hash Browns with Parsley Sauce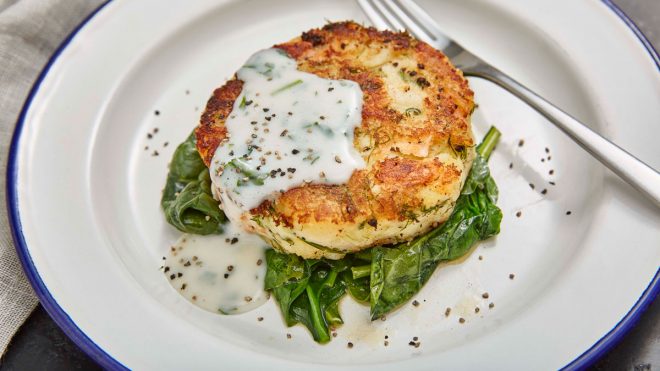 4 servings
20 minutes to prepare
Ingredients
1kg cooked potatoes, mashed
300g smoked salmon
150ml creme fraiche
50g butter
2tbsp dill, finely chopped
60g parsley, chopped
500ml milk
30ml single cream
50g plain flour
50g butter
Juice of 1 lemon
Instructions
If you've any smoked salmon leftover that needs using up, this is an absolutely delicious recipe that would make for a really special brunch or supper dish.
For the smoked salmon hash brown, place the potato, salmon, smoked salmon, crème fraiche and dill in a large bowl and mix.
Heat a large frying pan until hot and add the butter.To make each hash brown, place a metal ring in the centre of the pan and pack it with the mixture. Cook for 2-3 minutes on each side until golden-brown and crisp.
Add milk to a saucepan, then add the flour, butter and seasoning and bring everything gradually up to simmering point over a medium heat, whisking continuously with a balloon whisk, until the sauce has thickened.
Then turn the heat down to its lowest possible setting and let the sauce cook very gently for 5 minutes to take the raw taste out of the flour, stirring from time to time.
To serve the sauce, add the chopped parsley, cream and lemon juice.
Chefs tip
This would work well served on toast with the addition of a poached egg.