One-Pan Leftover Ham and Potato Hash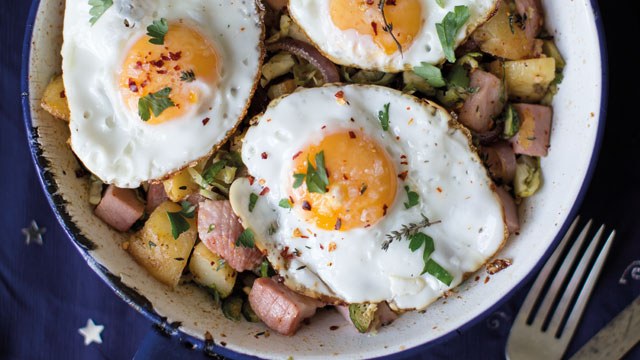 4 servings
40 minutes to prepare
Ingredients
1 tbsp olive oil
20g butter
1 medium red onion, sliced
400g thickly sliced leftover ham, cut into bite-size chunks
10 cooked new potatoes, cut in half
10 cooked leftover sprouts, shredded
2 sprigs of fresh thyme
1/4 tsp chili flakes
3 medium eggs
sunflower oil for frying eggs
Instructions
1 Put the olive oil in a large frying pan and cook the red onion for 3-4 minutes until soft.
2 Add the potatoes, butter, thyme and chili flakes and keep frying over a medium heat for about five minutes.
3 Put in the chopped ham and sprouts and keep frying it all for 10 minutes, until it is nicely browned and starting to stick to the pan a little.
4 Spoon on to warm serving plates.
5 Wipe out the pan and fry the eggs in the sunflower oil.
6 Put them on the hash and serve with brown sauce.