Sweetcorn Fritters with Jammie Eggs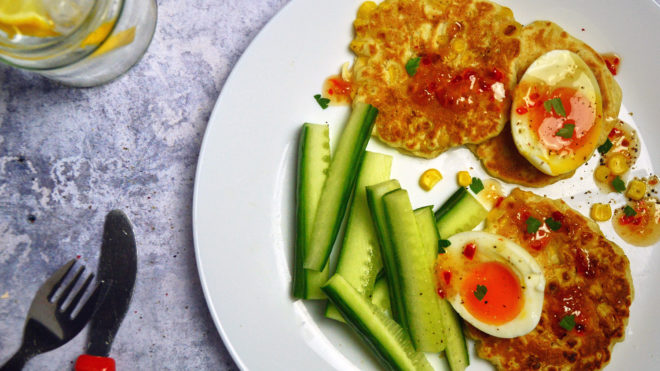 4 servings
20 mins to prepare
Ingredients
For the fritters
150g plain flour
2 tsp baking powder
1/4 tsp bicarbonate of soda
2 eggs, beaten
150ml milk
1 pinch sea salt & black pepper
165g tinned sweetcorn, drained
25g butter, melted
Sunflower oil for frying
For the Toppings
4 eggs to boil
1 cucumber chopped into sticks
Sweet chilli sauce to drizzle (optional)
Instructions
METHOD:
Place the flour, baking powder, bicarbonate of soda, beaten eggs, milk and seasoning into a large bowl and mix to combine. Add the sweetcorn, melted butter and fold into the batter.
Put a small pan of water on to boil, add all four eggs, reduce to a gentle simmer and cook for 6 mins 30 seconds for a jammie boiled egg. Remove eggs from saucepan and cool under cold water before peeling eggs and slicing in half. Place to one side.
Heat 1 tablespoon of oil in large frying pan over a medium heat. Add a heaped tablespoon of fritter batter and cook for 2-3 minutes on each side or until cooked through and golden. Repeat with remainder of better.
Divide the fritters between plates, serve with cucumber sticks, jammie eggs and finish with a drizzle of sweet chilli sauce. Add some fresh herbs if you have any in the fridge.
CHEF'S TIP: To ensure you get a jammie egg, make sure you don't cook for anymore or any less than 6 mins 30 seconds and then make sure you cool straight away to stop the egg from cooking further.