Cumbrian Kendal Mint Cake Aliens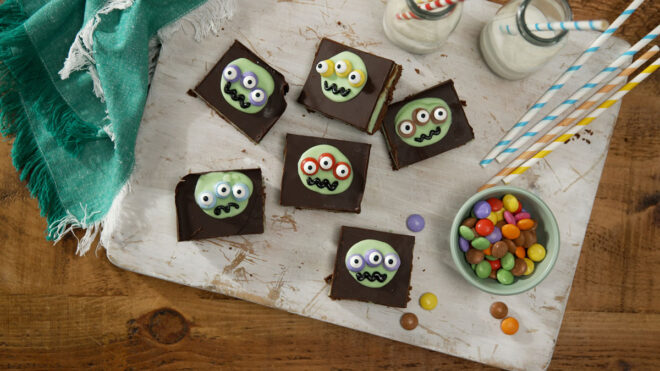 12 servings
75 minutes to prepare
Ingredients
150g plain flour
25g cocoa powder
50g soft brown sugar
125g cold butter, diced 2cm
500g icing sugar
30+20 drops green food colouring (don't use very watery colouring as it can make the chocolate seize)
1 x 85g Kendal Mint Cake, finely chopped
250g dark chocolate
1/2 tbsp coconut oil
100g white chocolate, chopped
12 white-covered pretzels or 2 packs smarties
1 tbsp black icing or black edible food pen
Instructions
Method:
Preheat the oven to 200°C / 180°C fan / gas mark 6. Lightly butter a 20 × 30cm baking tin and line with baking paper overhanging 5cm/2" around all sides (use a thin strip and a wider strip crossed over each other).
Sift the flour and cocoa powder into a mixing bowl. Add the sugar, rubbing out any lumps in the sugar with your fingers and stir with a wooden spoon to thoroughly Rub the cubed butter into the dry mix using your fingertips until the mixture resembles breadcrumbs (alternatively, pulse in a food processor).
Tip the mix into the lined baking tin and press the mixture evenly into the tin using the back of a spoon. Bake for 20 minutes, then remove and set aside to cool completely.
Once the base has cooled, tip the icing sugar into a large mixing bowl. Add 4 tablespoons of boiling water (be very careful not to add too much water) and 30 drops green food colouring. Mix well to form a smooth glossy mixture, then mix in the chopped Kendal mint cake.
Pour the mix onto the cooled base and level using a palette knife or the back of a spoon. Chill for 1 hour to set.
To make the topping, place the dark chocolate and coconut oil in a glass bowl over a pan of simmering water to melt, stirring occasionally. Alternatively, melt on low power in a microwave, then stir to combine with the coconut oil. Pour the melted chocolate over the mint layer and tip the dish to evenly cover the mint icing. Chill for 30 minutes to set.
Use a knife to lightly score lines for 12 squares (about 5-6cm square) in the surface of the chocolate.
Place the white chocolate into a separate glass bowl and set over the pan of simmering water to melt. Alternatively, melt on low power in a microwave. Mix through the remaining 20 drops of green food colouring (don't use watery food colouring, as this can make the chocolate seize).
Use a teaspoon to spoon rounds of green chocolate into the middle of each square. Press the pretzels or Smarties into each green round. Return to the fridge to set for a further 30 minutes, until all the layers are very firm.
Using a black edible food pen or 1 tbsp black icing, fill in the 'eyes' in the pretzels or mark black 'pupils' onto the centre of each Smartie. If using Smarties, draw a squiggly mouth for the alien. Chill for a final 30 minutes to set.
When you are ready to serve, lift the whole thing out with the baking paper overhang. Use a serrated knife to trim away any rough edges, if desired, then cut along the scored lines to divide into 12 squares.