Pancetta Wrapped Salmon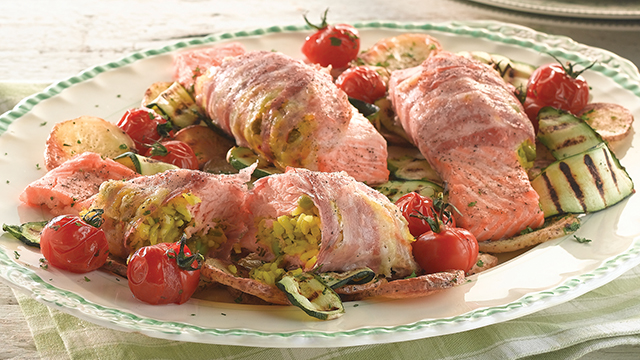 4 servings
60 minutes to prepare
Ingredients
4 salmon fillets
8 slices of thin pancetta
Zest and juice of 1 lemon
100g long grain rice, rinsed under cold water
50g shallots, finely chopped
½tsp saffron
100ml white wine
300ml chicken stock
2tbsp chopped parsley and chives
50g peas
1tbsp olive oil
Instructions
In a saucepan add the olive oil and gently cook the shallots until soft but not browned. Now add the white wine and saffron then simmer until most of the liquid has evaporated. Stir in the rice; cook for 20 seconds then pour in the chicken stock. Cover with a lid and simmer for 5 minutes then remove from the heat, but keep the lid on.
After 10 minutes remove the lid and with a fork break up the grains of rice. Gently stir the fresh herbs through the rice, add the lemon zest, juice and season with salt and milled pepper. Add the peas and the filling is made.
Take your salmon fillets and make a cut from the side through the salmon making a little pocket. Fill the pocket with the rice, pressing to secure. Place two pieces of the pancetta side by side, pop a salmon fillet in the middle and wrap the pancetta around it.
Now pre-heat the oven to 200°c/gas 6. Cook the salmon for about 12-15 minutes in an oven proof dish until the salmon is cooked.
Serve on scalloped or diced potatoes with fresh rosemary simply roasted through the oven with a little olive oil, salt and milled pepper. Pop a few cherry tomatoes on the tray and some ribbons of courgette just as the potatoes are starting to crisp.