Smoked Haddock with Chive Butter Sauce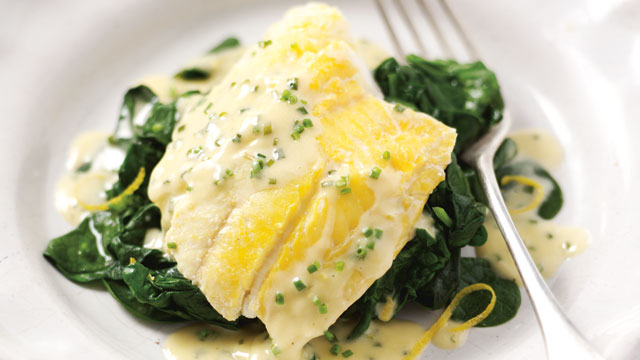 2 servings
30 minutes to prepare
Ingredients
1 large filet of smoked haddock
150g fresh spinach
1/4 zest of a lemon
1/4 tsp freshly grated nutmeg (optional)
20g butter, softened
For the butter and chive sauce
75ml double cream
50g chilled butter, cubed
squeeze (of) lemon juice
1 tbsp chopped fresh chives
50ml white wine
Instructions
The fish
1 Preheat your grill
2 Take out any bones from the haddock with a pair of tweezers.
3 Spread half the softened butter over the haddock.
4 Slice the haddock into two portions and put it on an oven tray.
5 Grill for 7-8 minutes
The spinach
1 Put the rest of the butter into a saucepan, along with the spinach, nutmeg and lemon zest.
2 Stir for 1 minute, add a splash of water, remove from the heat and put a lid on the pan to keep it warm.
The sauce
1 Place the white wine into a small frying pan or saucepan and reduce by half.
2 Add the cream and bring to the boil.
3 Add the chilled cubed butter, take the pan off the heat and stir the butter into the sauce with a wooden spoon, making sure it's all incorporated.
4 Add a squeeze of lemon juice and sprinkle in the chives.
To serve, divide the spinach between your plates, top with grilled haddock and spoon over the butter and chive sauce.