Chicken Chilli with Avocado & Chorizo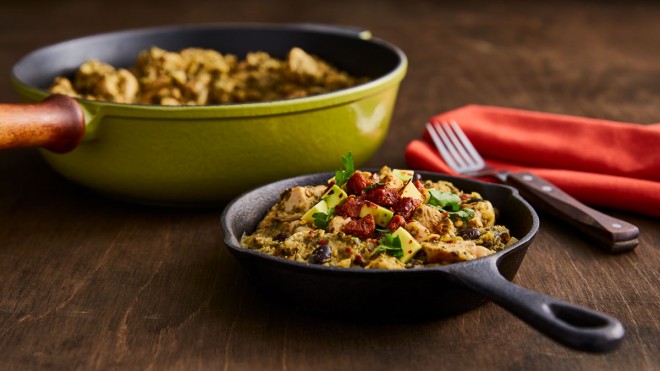 4 servings
10 minutes to cook, 20 minutes to prepare
Ingredients
2 chicken breasts, diced
1 litre chicken stock
1 brown onion, sliced
400g tin cannelini beans
2tsp cumin
2tsp crushed chilli
Optional
1 avocado, cubed
1 diced chorizo ring
1 pot of salsa
Salt & pepper
Instructions
A deliciously warming chilli chicken dish for those cooler evenings, topped with avocado!
In a large frying pan or saucepan gently sauté the onion on a low heat until softened and translucent.
Add the chicken and cumin and cook until brown.
Turn the heat up and add some of the stock to deglaze all the stickiness from the bottom of the pan.
Add the rest of the stock along with all of the beans and salsa. Bring to the boil then turn down and simmer for 5 minutes or until liquid has reduced by at least half. Meanwhile gently fry off the chorizo.
Serve the chilli, topped with the avocado and chorizo and scattered with crushed chilli.
Chefs Tip
You can also prepare in the slow cooker by placing everything except the beans inside and cooking on low for 6-8 hours OR high for 3-4 hours. Add the beans during the last half hour of cooking. Shred the chicken breast before serving.