Pork Loin Chops with Spiced Clementine Sauce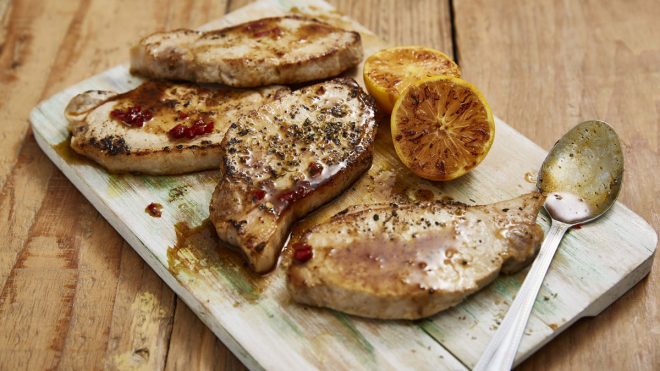 Ingredients
2 clementines, zest & juice
160ml pineapple juice
1tbsp honey
1 garlic clove, crushed
1/2tsp all spice
4 pork loin steaks
Instructions
The thick sticky spiced clementine sauce for these pork steaks is absolutely delicious and very easy to make. Ideal for a friday night fakeaway!
Combine the zest and juice of two clementines, 160ml of pineapple juice, 1tbsp honey, 1 garlic clove and ½tsp of ground allspice in a saucepan, then simmer until reduced by half.
Add 1tbsp of olive oil to a non-stick frying pan and pan fry the pork on both sides until cooked through and the juices run clear. Remove the pork steaks and keep warm.
Add the clementine sauce to the frying pan. Increase the temperature and bring the sauce to the boil, then reduce further to form a thick, sticky sauce. Serve over the pork with your favourite veggies and rice.