Fresh and Fruity Non Alcoholic Cocktails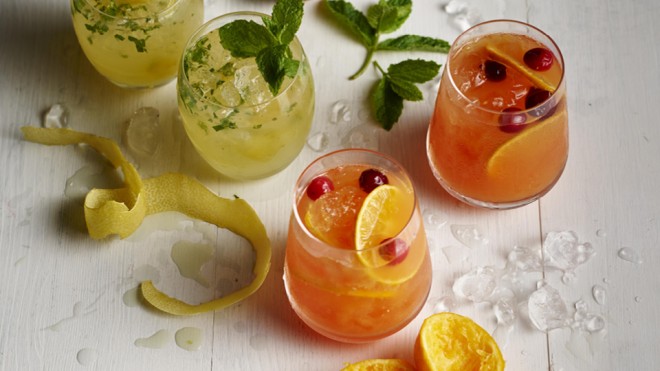 12 servings
10 minutes, plus cooling time to prepare
Ingredients
For the Cranberry and Clementine Cooler
75g fresh cranberries
50g caster sugar
3tbsp water
6 clementines
ice
1 bottle Soda or Prosecco
For the Lemon and Mint Quencher
2 lemons
100g caster sugar
25g fresh mint
ice
Optional
1 shot white rum
Instructions
These refreshing citrussy concoctions make delicious non-alcoholic cocktails – and you can easily spice them up with a shot of your favourite tipple too.
CLEMENTINE AND CRANBERRY COOLER
– makes six glasses
Simmer 75g of fresh cranberries with 50g of caster sugar and a few tablespoons of water for 6-8 minutes. Cool and strain. Juice six clementines, remove the skin and pith from the other two. Mix the cranberry juice and clementines juice together and add the chopped clementines. Serve over ice topped up with soda, extra cranberries and clementine slices. Use Prosecco rather than soda for a Christmassy alternative to Bucks Fizz.
LEMON AND MINT QUENCHER
– makes six glasses
Simmer the zest of 2 lemons with 100g of caster sugar (to make sugar syrup) in 300ml of water for 6-8 minutes. Leave to cool. Juice a lemon and pour into a large jug with ice. Add together the zest, your pre-made sugar syrup and 25g of finely chopped fresh mint. Serve over ice with a sprig of fresh mint. To make an alcoholic cocktail, just add a shot of white rum.