Flaked Trout with Penne Pasta and Purple Sprouting Broccoli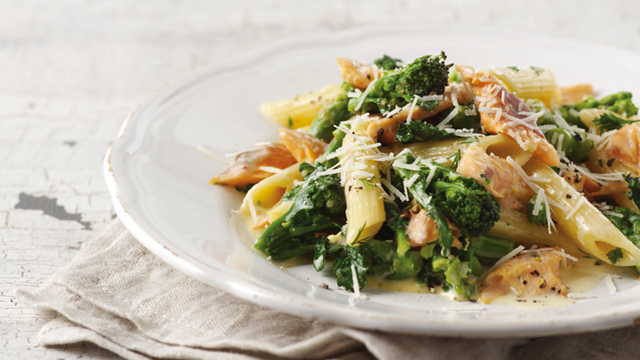 4 servings
20 minutes to prepare
Ingredients
4 fillets of fresh trout
Zest and juice of 1 Amalfi lemon
1tbsp olive oil
400g penne pasta
1 packet purple sprouting broccoli
1tsp dill
1tsp horseradish sauce
4tbsp creme fraiche
2 egg yolks
25g parmesan cheese
Salt & milled pepper
Toasted flaked almonds to serve
Instructions
Preheat your oven to 180ºc / gas 4.
Place the trout fillets onto a baking tray lined with non-stick greaseproof paper.
Season with salt and milled pepper then cook for 6-7 minutes, remove and cool then flake.
Bring a large pan of salted water to the boil. Cook the broccoli for 5 minutes and remove, place the penne in the same water and cook for 1 minute less than it says on the packet. Drain into a colander and tip back into the pan. Chop the broccoli into smallish pieces and add to the hot pasta along with the flaked trout, dill, lemon zest, egg yolks, crème fraiche and horseradish, give it a good stir. Add the parmesan, a little salt and milled pepper then serve with toasted flaked almonds.