Amalfi Lemon & Poppy Seed Pancakes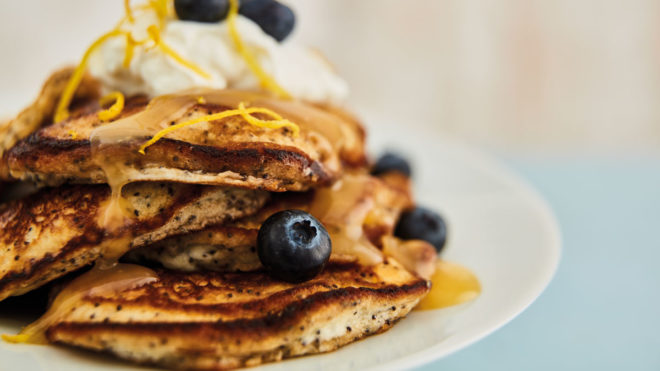 4 servings
15 mins to prepare
Ingredients
For the pancakes
110g self raising flower
75g caster sugar
1 tsp baking powder
2 tbsp poppy seeds
Zest of 2 Amalfi Lemons
180ml milk
2 egg whites
A little butter for frying
For the amalfi lemon sauce
100g lemon curd
2 Amalfi Lemons, juiced
To serve
75g blueberries
4 tbsp Greek yoghurt
Instructions
METHOD
For the pancakes, place the dry ingredients into a bowl. Add the zest from the 2 lemons, mix well.
Slowly add the milk, whisking all the time to prevent clumps.
In a separate bowl whisk the egg whites to stiff peaks. Fold the whisked egg whites into the pancake mix.
Heat a little butter over a medium heat in a frying pan. Using approximately 1/4 cup of pancake mix per pancake. Fry the pancakes for 1-2 minutes on each side or until golden brown. Repeat to use all of the mix.
To make the sauce, place the lemon curd into a small saucepan. Add the juice from the two Amalfi lemons, mix well and warm over a medium heat until smooth.
To serve, stack the pancakes and drizzle with the warm sauce, decorate with bluberries and finish with a dollop of greek yoghurt.
CHEF'S TIP: As an alternative, add a tablespoon of cocoa poweder to the mix and a handful of chocolate chips and serve with a drizzle of chocolate sauce. Or add a teaspoon of cinnamon to the mix and serve with warmed frozen mixed berries.