Vegan Lemon and Broccoli Pesto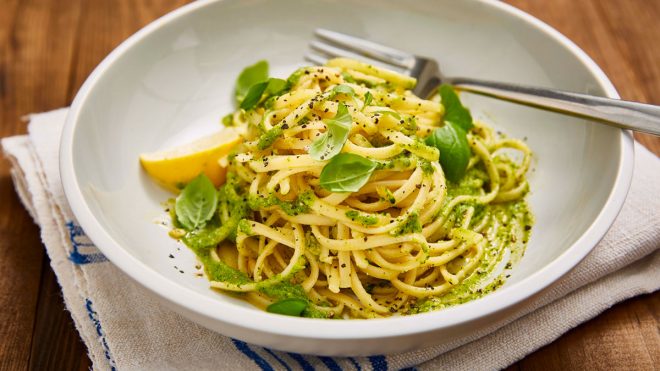 4 servings
5 minutes to prepare
Ingredients
1 broccoli head, broken into florets
50g pine nuts
2 cloves garlic, crushed
2 lemons, zest and juice
30g basil
Olive oil
Salt and pepper
Instructions
An easy to prepare broccoli pesto pasta sauce that's packed full of zingy lemon flavour and suitable for vegans.
Combine the ingredients apart from the olive oil into a food processor and blitz. Slowly drizzle the olive oil until you have a smooth sauce consistency. Season to taste, then stir into freshly cooked pasta and serve.
Chef's Tip
If you're serving this sauce to non vegans, try a grating of fresh vegetarian Italian style hard cheese or Parmesan.