Bramble Stuffed Baked Apple with Toffee Crumble Topping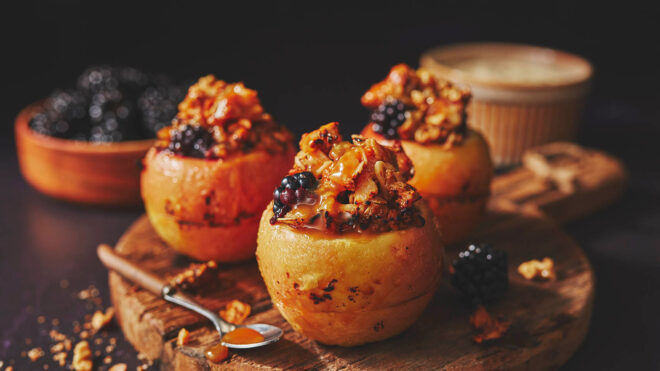 2 servings
25 minutes to prepare
Ingredients
2 large Bramley apples
50g butter, melted
1tbsp golden caster sugar
75g blackberries
2tbsp granola
2tbsp caramel sauce
Instructions
Method:
1. Pre heat the oven to 200°c /180°c Fan/392°F/Gas Mark 6.
2. Core the apples and score the skin of each apple horizontally in the middle, this will al-low the apple skin to expand when it cooks.
3. Brush with the melted butter and sprinkle with the sugar until there is a thin layer of sugar on the apple.
4. Place onto a baking sheet and stuff the centre with blackberries.
5. Mix together the granola and caramel sauce and top the apples.
6. Bake in the oven for 15 minutes until it's golden and the apple is tender.
7. Serve with Booths clotted cream ice cream.
Chef's Tip:
If you have any leftover baked apples, allow to cool and slice, garnish some freshly made por-ridge and add a few extra fresh blackberries.