Coffee Panna Cotta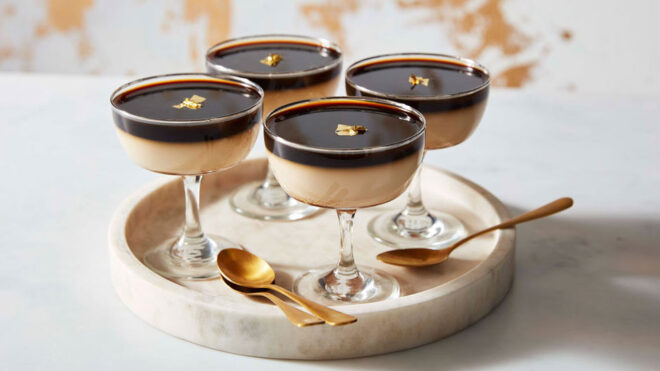 4 servings
10 minutes to prepare
Ingredients
3 gelatin leaves
100ml strong black coffee
100ml whole milk
300ml double cream
80g demerara sugar
1tsp vanilla extract
100ml strong black coffee
100g caster sugar
1tbsp Kahlua
Instructions
Method:
Soak the gelatine in a bowl of cold water and set aside.
Mix the coffee, milk and cream in a bowl, then pour about a quarter of the liquid into a pan and put over a low heat.
Add the sugar to the pan and stir until it has dissolved, then remove from the heat.
Squeeze out the gelatine sheets and add them to the pan. Stir until the gelatine has dissolved.
Strain the warmed liquid through a sieve into the remaining coffee, milk and cream mix. Then, stir in the vanilla.
Ladle it into 4 serving glasses and put in the fridge. Chill for 4 hours or overnight until set.
To make the coffee syrup: simmer the coffee and sugar until the sugar has dissolved and the coffee has thickened.
Stir in the Kahlúa and cool. Just before serving, flood the top of each glass with a little syrup.
Chefs tip:
Great make ahead dessert, serve with a fleck of edible gold leaf or crushed amaretto biscuits.