The Ultimate Vegan Brownie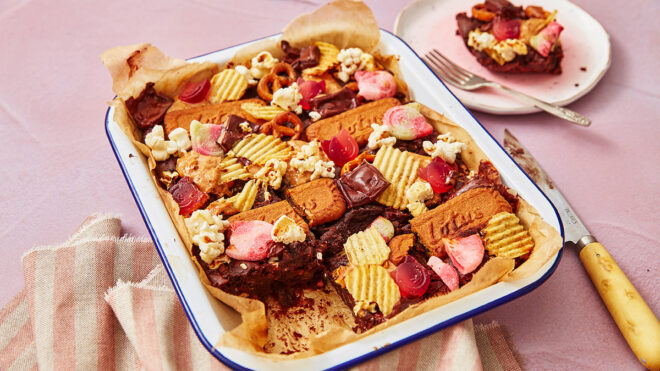 12 servings
20 mins to prepare
Ingredients
For the Brownies
225g vegan dark chocolate chopped
175g self raising flour
30g cocoa powder
175g caster sugar
1 tsp vanilla paste or essence
90ml vegetable oil
225ml dairy-free milk (oat, hazelnut, soya, coconut)
180g hazelnuts, chopped
For the Topping
Crisps
Pretzels
Dark Chocolate
Candy Kitten Sweets
Lotus Biscoff Biscuits
Popcorn
Vegan nut butter
Instructions
METHOD
Preheat the oven to 180ºC / 350ºF / gas 4.
Lightly oil a 20cm brownie tin and line with parchment paper.
Melt 150g dark chocolate in a Pyrex bowl over a pan of simmering water. Do not let the water touch the bottom of the bowl.
Sieve the flour, cocoa and sugar into a large bowl.
Add the vanilla paste or essence, oil and milk, then add the melted chocolate until it forms a smooth batter.
Add the chopped hazelnuts and the remaining chopped chocolate mix.
Pour into the brownie tin and top with vegan garnishes.
Bake for 20 minutes, the centre should still be soft.
Allow to cool and portion into squares.
CHEF'S TIP
You can mix and match your favourite toppings. Make sure to double check the packaging that all the ingredients you pick up for this recipe are vegan!