Simnel Cake with a Twist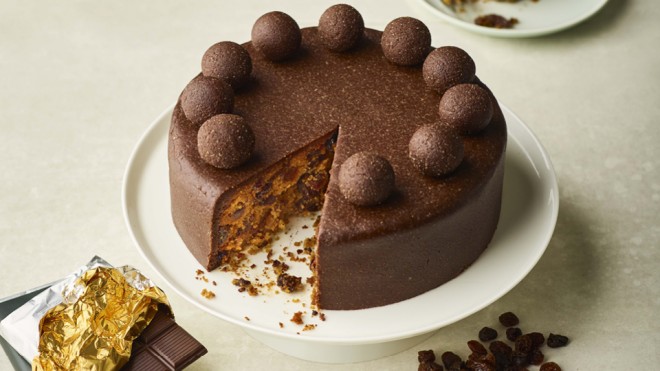 10 servings
2 1/2 Hours to prepare
Ingredients
For the chocolate marzipan
100g caster sugar
125g icing sugar
300g ground almonds
60g dark cocoa powder
1 large free range egg
1 large free range egg yolk
For the cake
250g plain flour
2tsp baking powder
200g butter, softened
200g soft brown sugar
3 large free range eggs
1tsp mixed spice
600g dried mixed fruit
100g dark chocolate, chopped into chunks
2tbsp apricot jam
Instructions
A traditional simnel cake with a chocolate twist
1 Preheat the oven to 150°C fan / 130°C / gas mark 2. Line a 20cm loose bottomed deep cake tin with greaseproof paper.
2 For the marzipan, place the caster sugar and icing sugar in a large mixing bowl and stir together. Add the ground almonds and sieve over the cocoa powder mixing in well. Lightly beat together the egg and egg yolk then add to the dry ingredients, mixing well until you have firm dough. Wrap in cling film and place in the fridge until ready to use.
3 For the cake, place the flour, salt, baking powder and mixed spice into a large bowl and mix well. Put the butter and sugar into another bowl and beat together for 2-3 minutes until light and fluffy. Beat in the eggs one at a time adding a little of the flour mixture after each one to prevent curdling. Beat well. Carefully fold in the remaining flour, followed by the dried fruit and chocolate chunks.
4 Spoon the cake mixture into the prepared tin smoothing over the top. Place in the middle of the oven and bake for 2 hours until golden and cooked through. If the top starts to brown too quickly loosely cover it with foil. Once baked, leave to cool completely before removing from the tin.
5 Split the chocolate marzipan into 3 equal parts. Roll out 1 third to the diameter of the top of the cake. Roll out another third to create a long strip the same depth as the cake; this will wrap around to cover the sides. Lightly brush the top and sides of the cake with the apricot jam and gently press the marzipan circle on the top of the cake and then press the strip around the side smoothing along the edges to seal. Use the remaining marzipan to shape into 11 small balls and arrange on top of the cake in a circle, sticking them in place with a little more apricot jam.