Chicken & Chorizo Paella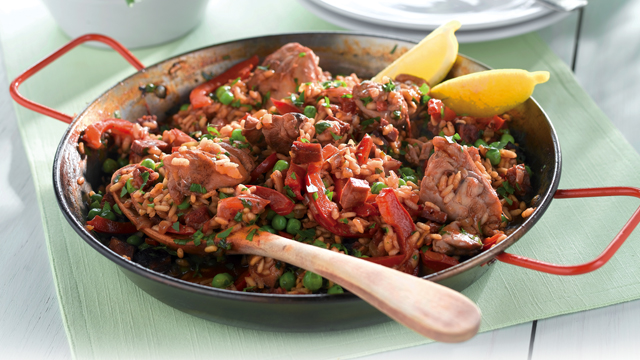 4 servings
50 minutes to prepare
Ingredients
150g chorizo sausage, roughly chopped
3 chicken legs, skin and bone removed and cut into large chunks
1 large onion, thinly sliced
1tsp smoked paprika
½-1 red chilli, de-seeded and finely chopped
2tbsp olive oil
200g paella rice or risotto rice
1ltr hot chicken stock, made from cube
1 red pepper, thinly sliced
150g frozen peas
3 tomatoes, roughly chopped
Handful of chopped fresh parsley
1 lemon, sliced into pieces
Instructions
Heat a large frying pan over a medium heat and cook the chorizo until golden and the oil has released, remove from the pan and leave to one side.
Return the pan to the heat and fry the chicken in the chorizo oil, add a little extra olive oil if required and fry until nicely browned all over then remove from the pan.
Heat one tbsp of the olive oil, add the onion, chilli, and smoked paprika and cook until the onion is soft. Add the chicken along with the rice to the pan ensuring they are covered in the smoked paprika mixture. Then, add the chicken stock, chopped tomato and red pepper, turn the heat right down and bring to a steady simmer.
Cook for about 15 minutes, stirring every so often.
Finally add the peas, chorizo and half the parsley, continue cooking for a further 5 minutes adding a little water if it looks a little dry.
Serve straight from the pan with fresh lemon and chopped parsley.