The Boho Baker's Strawberry Galette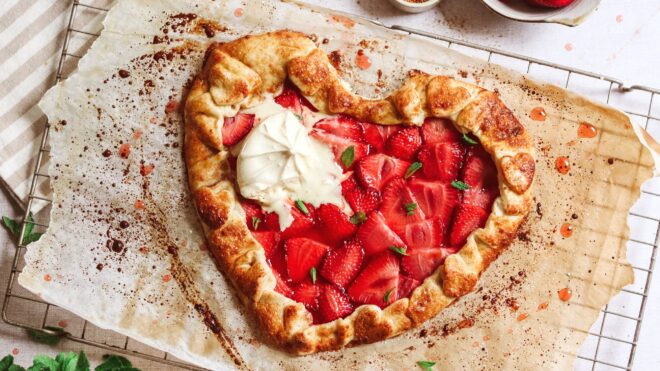 6 servings
25 mins to prepare
Ingredients
1 sheet pre-made shortcrust pastry
Or
190g plain flour
50g caster sugar
Pinch of salt
120g cold, unsalted butter, cubed
60ml iced water
1 small egg, beaten
1 tbsp soft brown sugar
Filling
400g strawberries, tops removed
50g caster sugar
1 tbsp vanilla extract
To Serve
2 stems of fresh mint leaves
Vanilla Ice Cream
Instructions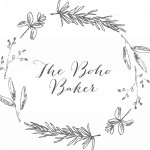 The Boho Baker describes herself as "Baker. Writer. Forager. Wanderer. Organic ingredient and edible floral Enthusiast. Member of the Guild of Food Writers." Very local to our HQ in Preston, she's kindly agreed to do a series of recipes for us, celebrating the best of our local produce. Follow her on Instagram @thebohobaker
METHOD
Slice the strawberries and pop them in a bowl with the caster sugar and vanilla. Give the bowl a shake and leave to macerate for 15 minutes.
If making your own pastry, rub the flour and butter together until the mixture resembles fine breadcrumbs. Add the salt and caster sugar. Stir in the water little by little until a dough comes together. Wrap in clingfilm and refrigerate for 15 minutes.
Preheat the oven to 200°C/180°C/gas mark 6. Line a tray with baking paper.
Roll out your chilled/pre-bought pastry. Use a sharp knife to trim away some of the edges to create a large heart shape. Top with the strawberries, leaving a gap of 2cm/1 inch around the edge.
Brush the exposed edge with a little beaten egg. Fold the edges in on themselves, allowing the pastry to pleat as you go.
If you have a cutter at home, cut some heart shaped pieces out of the left over pastry. Use a little egg to stick the hearts to the pleated edges before brushing the entire frame with egg.
Sprinkle the pastry with brown sugar and bake for 25-30 minutes. Leave to cool on a wire rack.
When the galette has cooled, drizzle with the residual juices from the macerated strawberries. Decorate with mint leaves and serve with a generous scoop of vanilla ice cream.