Bonfire Cupcakes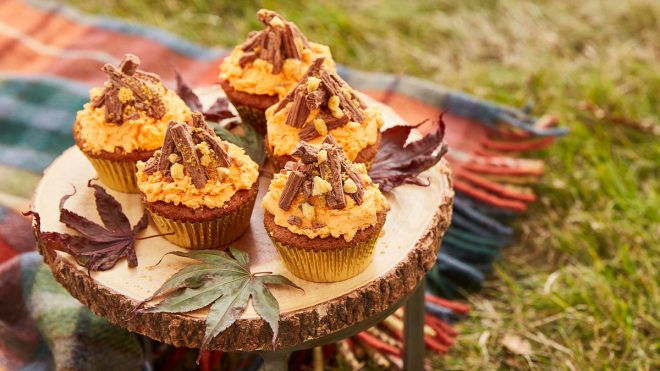 12 servings
1 hour to prepare
Ingredients
For the cupcakes
175g Margarine
150g soft brown sugar
175g self raising flour
25g honey
3 eggs
For the buttercream
100g butter, softened
25g honey
200g icing sugar
Orange food colouring
To decorate
4 flakes, sliced into shards
1 crunchie, crushed
Instructions
Method:
Preheat the oven to 160°C (fan) / 350°F / gas mark 4 and line a 12-hole muffin tin with paper muffin cases.
Combine the cupcake ingredients using an electric mixer or whisk, then divide between the cases. Bake for 25-30 minutes. To check the cupcakes are cooked, insert a skewer and it should come out clean.
Remove and allow to cool for 10 minutes, then place on a cooling rack to cool completely.
Sift the icing sugar over the softened butter and honey and beat into a smooth icing. Mix in a couple of drops of orange food colouring. Spoon a dollop of icing onto each cupcake, decorate with shards of Flake and finish with a sprinkling of crushed Crunchie.