Frozen Range Review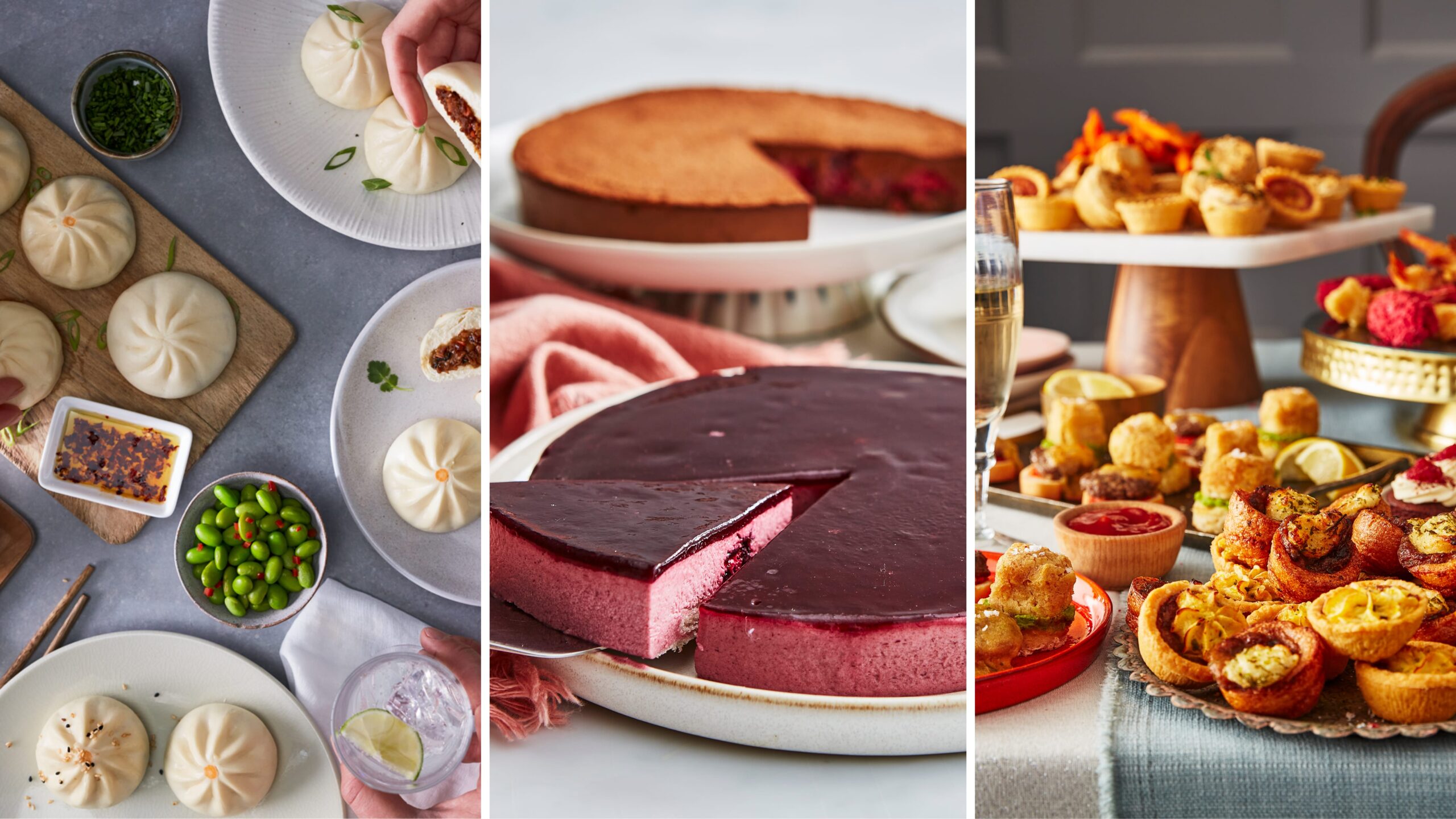 With winter and the festive season quickly approaching, our Frozen buyer Kim has been on the lookout for new and exciting products to help us celebrate Christmas and create exciting and warming meals for those chilly nights ahead.
From our new range of Booths party food and desserts to delicious festive flavours of your favourite ice cream, we've got plenty of new products for you to try in store now. Don't forget, you can get 5% rewards on our entire frozen range when you scan your Booths card.
Booths Party Food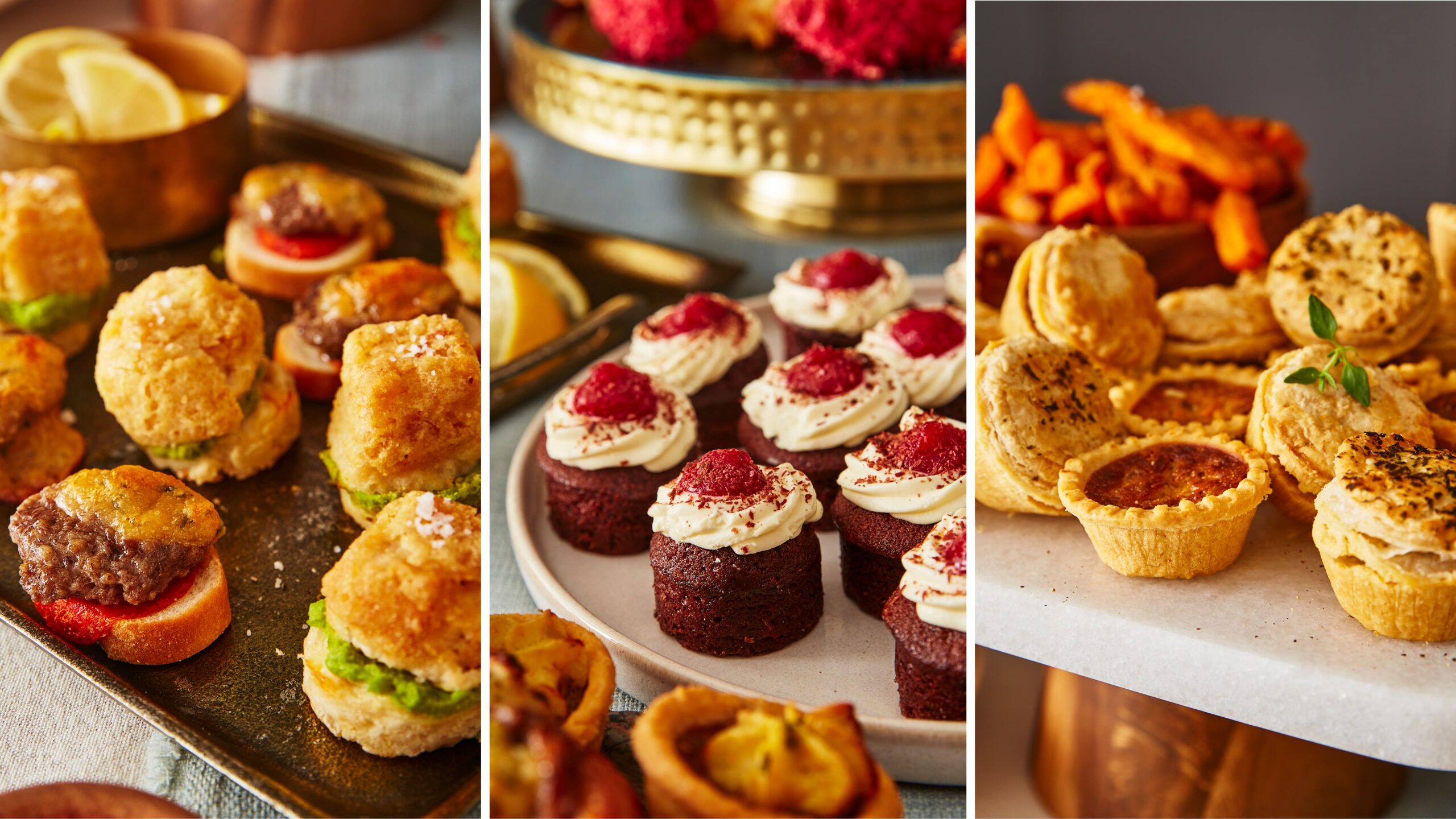 We're big fans of party food here at Booths so we've extended our range into the freezers by launching a brand new collection of bite size portions just in time for Christmas. With traditional mini quiches, decadent red velvet prawns and miniature versions of your favourite classic dishes, you'll find plenty to choose from.
Booths Tempura Prawns, 8 Pack
Booths Red Velvet Prawns, 150g
Booths Popcorn Shrimps, 90g
Booths 12 Mini Quiche, 252g
Booths 12 Mini Pies, 312g
Booths 9 Mini Cheeseburger Crostini, 189g
Booths 9 Fish & Mushy Peas Rosti, 252g
Booths 12 Beef & Horseradish Yorkshire Puddings, 177g
Booths 9 Mini Cottage Pies, 324g
Booths 12 Mini Black Forrest Cakes, 183g
Booths Frozen Prawn Ring, 300g
---
Booths Desserts
Expanding on the new range of Booths ice cream and cheesecakes which launched earlier this year we're introducing two indulgent tortes. Each torte consists of a light sponge topped with a fruity compote and either a chocolate ganache or an airy mousse. Perfect for keeping in the freezer for those last minute dinner guests.
Booths Blackcurrant Torte, 415g
Booths Chocolate & Raspberry Torte, 405g
---
itsu
When founder Julian Metcalfe returned from Tokyo in 1994 he was inspired to recreate the beautiful fast food he'd enjoyed during his visit. The new itsu range brings convenient, Asian-inspired food to our stores with a selection of gyoza and bao'buns. With over 70 restaurants, itsu is well known for serving up delicious and healthy Asian-inspired food, and now you can enjoy it in the comfort of your own home.
Selling over 60 million gyoza in 2020 alone, the quick and easy to cook dumplings can be enjoyed on their own as a quick snack or within a larger meal for a burst of flavour. Their award-winning bao'buns are perfectly steamed, cloud-like fluffy buns with a delicious filling, ready for you to eat in under a minute.
itsu Chicken Gyoza, 240g
itsu Classic Prawn Gyoza, 210g
itsu Vegetable Fusion Gyoza, 300g
itsu Hoisin Duck Bao'buns, 270g
---
Lathams Christmas Desserts
Lathams desserts have been a customer favourite for many years, and this year we're introducing two new individually portioned desserts. You'll find a classic Tiramisu alongside the new Star Delice, a velvet textured white chocolate mousse filled with a buttery salted caramel sauce and dark chocolate cremeux.
New this year:
Lathams Tiramisu, 2 Pack
Lathams Chocolate Star Delice, 2 Pack
Returning favourites:
Lathams Boozy Dessert Selection, 4 Pack
Lathams Dessert Medley, 4 Pack
Lathams Sticky Toffee Choux Wreath, 650g
Lathams Black Forest Gateau, 700g
Lathams Raspberry & Lemon Roulade, Each
Lathams Chocolate Profiterole Stack, 36 Stack
---
MUNCH!
Founders Simon and Gareth came together with an aim to bring the street food revolution into your home, creating opportunities for you to cook and create delicious food with and for the family.
Munch! kits include everything you need to create authentic Italian style pizza and garlic bread. Once made you're encouraged to get creative by adding your own toppings, whether they're weird or traditional, everything is welcome!
Munch Garlic Bread Kit, 530g
Munch Margherita Pizza Kit, 750g
---
Beroni Pasta
Beroni is a vegan-friendly restaurant quality pasta, perfect for anyone looking for quick meal solutions without compromising quality or taste. Their range of frozen pasta is ready to serve in just 30 seconds! Using only the finest of Durum wheat and water, the dough is freshly prepared in the UK. They shape the pasta and cook it 'al dente' before freezing it immediately to lock in the freshness and taste, with no need for preservatives! You simply reheat in a pan of boiling water (just stir for 30 seconds, there is no need to bring it back to the boil!) and mix with your preferred sauce for a quick and easy meal.
Beroni Frozen Fusilli Pasta, 600g
Beroni Frozen Penne Pasta, 600g
---
Young's Fish
New to our range of Young's fish you'll find chunky fish fingers, perfect for creating a posh fish finger sandwich at home, alongside fish cakes and fish pie perfect for the kid's tea!
Young's Gastro Signature Breaded Chunky Fish Fingers, 320g
Young's Gastro Tempura Battered Chunky Fish Fingers, 320g
Young's Gastro Breaded Haddock Fish Cakes, 270g
Young's Cheesy Fish Pie, 245g
---
Christmas Meat
You can tick the main dish off your Christmas list early this year. With our selection of turkeys and pheasant we're making your festive planning easier with our range of frozen meats.
Turkey Crown, 2kg – 3kg
Turkey Medium, 4.5kg – 5.99kg
Turkey Large, 6kg – 6.99kg
Furness Fish & Game Stuffed Turkey Breast, 2kg
Furness Fish & Game Boneless Pheasant Breast, 450g
---
Also NEW in store now
Festive flavours…
Ben & Jerry's Caramel Brownie Party, 465ml
Ben & Jerry's Minter Wonderland, 465ml
English Lakes Mince Pie Ice Cream, 1Ltr *Exclusive to Booths*
Häagen-Dazs Cosy Cocktail Minicups, 4x95ml
Häagen-Dazs Rum Salted Caramel, 460ml
Little Moons Chocolate & Hazelnut, 192g
Little Moons Raspberry, 192g
Oppo Brothers Cookies & Cream Ice Cream, 475ml
Viennetta Chocolate Yule Log, 650ml
Party food…
Brew City BBQ Mozzarella Bites, 220g
Jus Rol Vol au Vents, 625g
To read more about our products, click here.