Homethings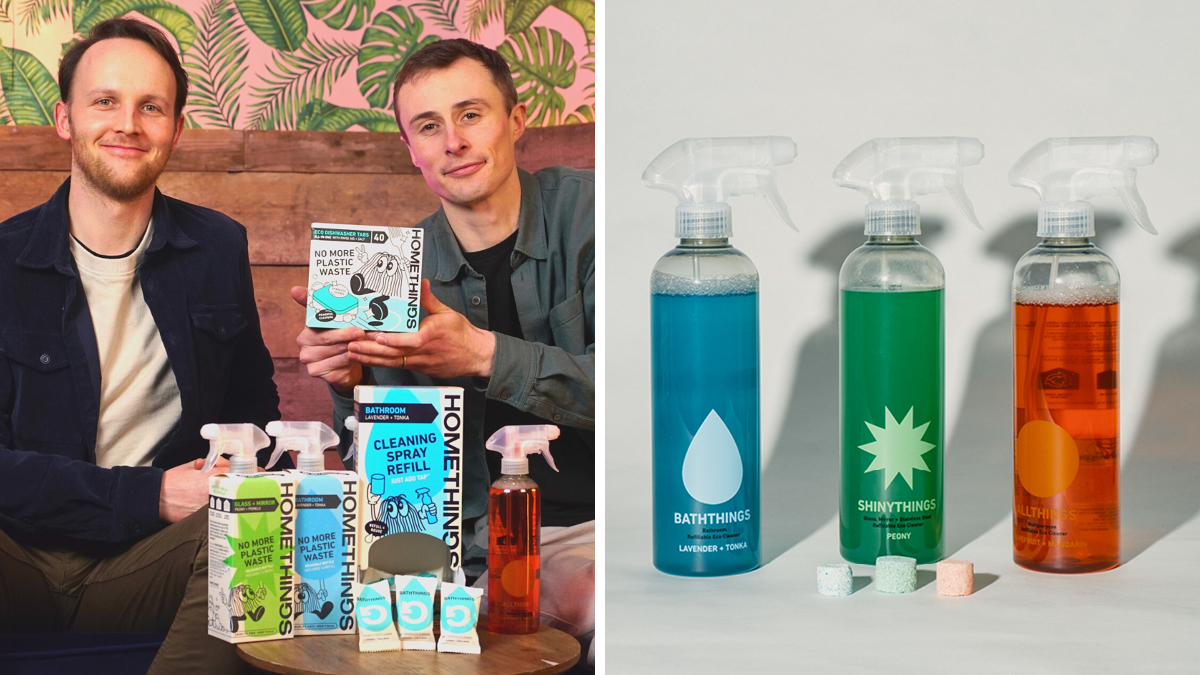 Homethings is a British eco-friendly home care brand committed to developing powerful, planet-positive products that keep your home and our planet clean. Founded in 2020 by university friends Tim Keaveney and Matthew Aubrey after years of living in house shares and seeing plastic products pile up, they concluded there must be a better way of doing things. The team are composed of 7 members split between London and Manchester, all working to make the world of cleaning make a little bit more sense.
They quit their corporate jobs and set about finding partners to bring their idea for effervescent cleaning tablets to life by working with expert green formulation chemists until they found the perfect concoction.
When they launched their initial range of 3 tap-water refillable cleaning sprays on Kickstarter they made £16,000 on their first day! By putting the active ingredients into powder form, they were also able to launch the UK's first tap water refillable washing-up liquid. From plastic free laundry pods to powerful dishwater tablets, they have a whole range of products that avoid single-use plastic and shipping water needlessly around the world.
Their eco-friendly laundry and dishwasher tablets are coated in a 100% biodegradable film rather than plastic wrappers and their cleaning spray refills produce 94% less carbon emissions than a traditional bottle of household cleaner. They are ranked in the top 5% of all B-Corps in the world for sustainability and everything is produced as close to home as possible in the EU in order to keep their footprint low.
They have achieved many awards so far including The Grocer Gold Start-Up of the Year 2022 and B-Corp Best for the World 'Environment' 2022!
It's incredible to see that retailers like Booths are responding to the call for greener and more planet-friendly products – not just in home care but across the board. For us, our mission remains the same today as it did on day one – to change the way the world cleans – and our partnership with Booth is the next step in our journey towards that goal.

Tim Keaveney, Co-founder
We are delighted to stock 11 of their eco-friendly, vegan and cruelty free products on our shelves, helping to make our homes cleaner in a sustainable way.